Printer Friendly Format
Balancing Act: The Newsletter (No. 180, August 2014 )
Follow me on Twitter! You can find me here:
http://twitter.com/BentleyGTCSpeed
Every day I provide 2-3 brief, pithy pieces of advice for growth. Join the thousands who read these "quick hits" every morning.
And find me on Facebook:
http://www.facebook.com/profile.php?id=788474935&ref=profile
Free consulting newsletter: The Million Dollar Consulting® Mindset:
http://summitconsulting.com/million-dollar-consulting-mindset/
Monthly, fast advice on consulting techniques with case studies.
NOTE: My Power of Self-Worth and Fulfillment Series starts in September, discounts for the next two weeks only, free videos and details here.
Make your case or forget it. Don't hold a grudge. Grudges abrade away your effectiveness.

If you feel guilty because you miss an exercise session, you're simply creating another bad habit. You exercise to improve. You also need to be guilt-free to improve.

People who proudly proclaim they never watch TV or read a newspaper are not people I intend to be near again if I can help it.

Maintain context: If you're at a Four Seasons Hotel and the food isn't prepared properly, return it. If there's along line behind you at the coffee shop, stop insisting on imported soy, paper-free cups, sugar cane sweetener, and a guarantee of 186-degree temperature.

Wearing a cap backwards looks cliché on young people and absolutely idiotic on adults.

Physicians' assistants and nurse practitioners are faster and just as reliable as doctors for minor ailments.

If you have a full, 40-hour, committed schedule during the week, you have a lousy schedule.

Time is a priority, not a resource. If you tell me you have no time to do something what you really mean is that you choose not to spend time on it. That might be perfectly legitimate, but it's often a cop-out.

People who race to a pool or beach to claim spots at 7 am then go back to sleep always seem horribly insecure to me.

I most readily accept advice from people who have also asked for mine, but not from professional "advice givers."

I'm writing this from Bali, where I'm sitting in the outdoor part of our private villa, probably 800 square feet outside the house, with a covered "study" overlooking our private pool and the Indian Ocean beyond. It is as sumptuous and profoundly relaxing as it sounds, with an early morning rain just departed and the gentle roar of surf a hundred feet below.
We live in an unprecedented world, and that is not a cliché. For hundreds of years in the past, most aspects of life hardly changed at all. In the age of sail, up to the 19th Century, when this trip to Bali would have required four months and extraordinary deprivations, the world was a consistent place. Matters of medicine, military, communication, and government did not change radically.
Today, I sit here in an exotic setting, writing on a lap top computer, using the global internet, residing in a luxury hotel with every amenity one could want, yet consistent with the surrounding environment and culture. We came via Dubai and Emirate Air, a city that was once a sleepy backwater and an airline that didn't exist all that long ago. Now Dubai is a world crossroads and Emirates flies more flights daily than any other carrier.
It's not just a world constantly changing that is significant, it's the juxtaposition of the changes. The opportunities exist in how we synthesize the changes to improve our lives and the lives of others. I can run my business with a phone and a computer from virtually anywhere. (I've made more money while traveling in July than many people make in one place in a year, and I'm constantly thankful for that ability.) I can stay in touch with clients from the pool, maintain my Forum from afar (Alansforums.com), and easily complete this and another five newsletters on schedule.
It's not the change, it's the synthesis of change that provides those who are interested with great opportunity. We can find something we need online without leaving the house and have FedEx deliver it almost immediately. A dentist can take an X-ray and immediately correct a problem, and a doctor can participate in a diagnosis virtually, from long distances. We can create global customers with personal service. We can see our dogs while we travel.
I've never wanted merely more technology, I've wanted technology that can improve and augment other advances around me. I can choose to be reachable or non-reachable. But I'm always expanding my reach.
The human condition: Povertitis
I grew up poor. There is no other kind or politically correct phrase. Almost all of my friends were also poor, so we didn't worry a whole lot about it. But I did find myself thinking that someday I wanted to be able to buy things and go places that my parents had simply given up on.
When I was an exchange student, from an inner city school, the kid from Finland (my counterpart) and I kept getting thrown out (literally and physically) from first class accommodations on the Queen Mary, channel steamers, and trains. We'd sneak in from the lower class, and the crew would inevitably find us and toss us down the stairs or out in the rain. Once again, I vowed I'd travel in style some day.
However, for many people, the habits of poverty are not erased by the heyday of plenty. Even though they now live better than most, they hesitate to pick up a check, leave inadequate gratuities when they do, and will often spend hours trying to save a few bucks. They continue to deny themselves because denial has become part of their ethos, reflective not of current reality but of history.
This "povertitis" is the condition of having a poverty mentality when one should have an abundance mentality. A poverty mentality emphasizes savings and conservation, while an abundance mentality stresses confidence and consideration. Too many people are spending thousands in order to save hundreds. They act as martyrs to their own past, denying themselves developmental, recreational, and learning opportunities in order to conserve money.
Wealth isn't about money. Wealth is about discretionary time. I can always earn another dollar but I cannot make another minute. My intent is to invest in my life, not save until it's over.
---
DEVELOPMENT OPPORTUNITIES
For almost pennies and item, receive very brief video, audio, and print assistance each week to build your self-esteem and deal with your life and career from a position of confidence and calm. Poor self-esteem is the biggest obstacle I've seen to people's progress.
September 3-4, Providence, RI

I thought I was done with this, but popular demand requires a reprise. In 1.5 days learn a powerful methodology to run strategy interventions, create strategies for your clients, and add this valuable tool to your arsenal. One of my most popular programs ever. THREE SEATS REMAIN
September 29, New York City

Learn a systematic methodology for innovation to use with your clients and improve your value and fees, based on my book that was used at the Wharton School. Nothing else like it.
December 8-12
Castle Hill Inn, Newport, RI

Join 300 people globally who have participated in this intense, accelerated learning. And you can qualify for the 10th Anniversary Grad School in Laguna Beach next May. Last chance to do so, you must be a graduate.
Four Seasons, Palm Beach
Oct. 22-24

SOLD OUT, wait list only. Dan Pink thrilled everyone this year, and 18 of those participants immediately signed up again! The internationally famed political analyst James Carville is my special guest. The fee is $10,500.
Build your energy, renew your focus, create greater growth by taking an ongoing, weekly break, guided by these five-minute videos. A breath of fresh air in a busy life.
An hour's guide to personal and professional success with free downloads.
Do you have a small niche audience, or a book commercial publishers don't understand, or a need to launch a book quickly? I've self-published, have a crack team, and we can get books into print that are highly impressive, hard copy and/or electronic. We can even create special web pages and video promotion.
I have selected openings in the Super Coaching Program (KAATN: Kick Ass and Take Names)

I've helped people: obtain six-figure contracts, make major media appearances, gain meetings with top people (some nationally known), have proposals closed, start new businesses, gain greater visibility, build self-worth, obtain book contracts, create new brands, improve their web sites and blogs, and so on. The original group's nine months is about to end, so there are a few openings.
now available for 2014

As of 2014 there will be a Diamond Alan Card. (Colleen Francis calls this "all in," which is a poker term, and Colleen gambles on cards. My biggest gamble is wolfing down shellfish at dives on the Jersey Shore.) The card will entitle the bearer to partake of my offerings below (I've indicated as much as I can about next year and whether fees will increase or be stable).
Use my excellent professional colleagues as resources in areas such as personal wealth building, positioning messages and brands, and establishing C-level relationships.
---
Work with the strategic technological genius, Chad Barr, Master Mentor and Mentor Hall of Fame member, who is behind all of my web activity (and co-author with me of Million Dollar Web Presence). His team will create "instant" intellectual property from your material and place it in a variety of forms on the Internet on a continuing basis.

I can't cook a thing, can barely make a sandwich, and this is widely known. Not long ago, my wife had to be at a board meeting for a considerable time, so she left food in the microwave for me and a large post-it note on the door which said: JUST DO THIS: THE OVEN IS PRE-SET. PUSH '"ON" AND WHEN THE COUNTER GOES TO ZERO YOU'LL HEAR A BEEP. REMOVE THE FOOD AND EAT IT.
I was somewhat offended by the tone but I was also hungry at lunch time, so I did what I was told and watched the digits descend to 0, then heard the beep. But try as I might, I could not open the door. It would not budge. After ten minutes of trying and the dogs staring impatiently (they share my lunches), I left to go get some take-out.
When my wife retuned I told her the oven was broken and it wasn't my fault the door wouldn't open. She lifted her post-it note, under which was a button that said "open."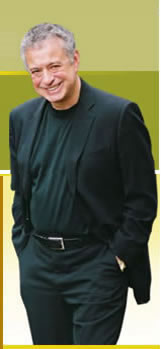 Balancing Act® is our registered trademark. You are encouraged to share the contents with others with appropriate attribution. Please use the ® whenever the phrase "Balancing Act" is used in connection with this newsletter or our workshops.
Video Rant

See Writing on the Wall, featuring Koufax the Wonder Dog.
Visit my blog

Two new podcasts every week. Special cigar smoking room.
Stop thinking about how should act and start acting that way. Your thinking will come around. —Alan Weiss