Printer Friendly Format
Balancing Act: The Newsletter (No. 161, January 2013 )
Follow me on Twitter! You can find me here:
http://twitter.com/BentleyGTCSpeed
Every day I provide 2-3 brief, pithy pieces of advice for growth. Join the thousands who read these "quick hits" every morning.
And find me on Facebook:
http://www.facebook.com/profile.php?id=788474935&ref=profile
Free consulting newsletter: The Million Dollar Consulting® Mindset:
http://summitconsulting.com/million-dollar-consulting-mindset/
Monthly, fast advice on consulting techniques with case studies.
Amazingly, I've been doing Balancing Act for over 13 years, and as I look to 2013, I thought I'd share some narrative with you here. Many of you have been with this newsletter since the beginning, and some of you are reading it for the first time.
I'm writing this portion listening to Michael Feinstein sing Gershwin. My wife and I received an autographed book and CD when we saw him just before Christmas at his signature room in the Regency Hotel in New York, which will be closed when you read this due to a year's worth of renovations. I hope he'll surface elsewhere in the interim.
We can all recall music which takes us to a specific instance in our lives, a time machine in a major chord reviving explicit memories. This happens with Feinstein singing the Great American Songbook.
I've also arranged all of our photos to be transferred to digital format, and they appear randomly on my computer and Apple TV. Sometimes my wife will visit my office and become mesmerized, watching 44 years of marriage and family randomly recreated.
The eternal music of the Gershwins from the 30s, and the modern technology of our times. In combination, they create a wonderful, comforting, fulfilling environment. My late uncle used to ask, "What do you do with all those photos? I never see them again!" A good question, pre-technology, and now we have the answer.
My message to you for 2013 is to surround yourself with good feelings, with positive memories, with happy times. We owe that to ourselves, and we're able to do it at leisure with great ease today.
I'm as effective as I am because I'm even better at rejoicing! Playing with the dogs, enjoying a performance, engaging in a rewarding endeavor—these are daily events in my life. I'd urge you to do the same in a world that both advertently and inadvertently tries to make you into something else, attempts to blend you with an amorphous mass, seeks homogeneity, every single day.
Treat yourself to your own history to better appreciate your own present and to best set your own future. "They Can't Take That Away From Me."
All the best to you and yours for the New Year. If you keep reading, I'll keep writing.


I was at the gym the other day, on the treadmill, waiting for my trainer and trying to convince myself that this entire activity is good for me. My habit is to watch whatever TV program is on and not try to change it, so that I can learn something from other people's choices. Inexplicably, there were only women in the place other than myself, yet the TV was tuned to a vociferous sports talk show called "Mike and Mike."
The two hosts, sometimes with guests, animatedly discuss the most recondite aspects of sports with zeal and passion. At the moment, they were engaged in a whirlwind of debate about Tim Tebow and his prospects.
As I checked to make sure I hadn't inadvertently set the treadmill for too fast a speed, I began to marvel at the passion of the show over relative trivial and banal matters, until I realized that many of the most impassioned arguments I've heard—with the most fact-backed debate on either side—are about sports. And then I began to wonder about something else.
Why don't we debate and scrutinize and examine our kids' education with that kind of energy, frequency, and visibility? What about prostitution, or narcotics, or immigration? What if the same number of radio and television talk shows now engaged in sports commentary tackled poverty, or small business growth, or simplifying the tax code? Instead, these topics are covered by austere "talking heads" on early Sunday morning television or late night radio (or on prime time by demagogues and hucksters with private agendas).
I'd love to hear Mike and Mike talk about the worth of teachers' unions, fair pay and security for teachers, the role of parents, standardized testing, and the fact that we seem to dump our kids in school "factories," the basic rationale of which is about 200 years old. Throw in some callers, some guest commentary, and keep it as factually based as Alex Rodriguez's fielding average or Tom Brady's effectiveness against the Colts.
Sometimes you just have to focus some heat on issues before you can begin to see the light.
The human condition: Kindness
My observation is that too many of us regard kindness as a distinct and singular act, often involved us going out of our way or sacrificing time, energy, and/or money. Perhaps we need a different perspective.
I try always to hold the door for people, and unfailingly they say, "Thank you." I'll often flash my lights and allow another car to turn in front of me, though sometimes the driver seems suspicious and waits a few seconds. I know that I always appreciate this gesture when done for me, and flash my lights back to thank the other driver.
My tips are always at least 20 percent when I've had good service, and I tip on the entire amount, without deducting the tax or other charges. Money isn't always necessary for kindness, sometimes a kind word, a cake, or a good idea will fill the bill. A woman saw me balancing coffee, newspapers, and dog treats once, and offered to help me over to my car. (She said, "Do you need anything else?" I said, "Yes, we have a spare room, would you be interested in coming to live with me and my, ah, sister?")
Most importantly, perhaps, kindness makes you feel better. So long as you don't demand reciprocation ("I subscribed to your newsletter, I follow you on Twitter, why don't you subscribe to mine and follow me!?"), you'll find that you feel better. Only the psychotic are intrinsically thrilled when they steal a parking space, cut in front of you in line, don't allow you to turn, or slam the door in your face deliberately. Fortunately, they are few and far between.
We shouldn't need a holiday or special occasion to engender kindness within us. We should simply look around and see all of our brethren with us in the human condition.

---
DECEMBER 31 DISCOUNTS FOR TELECONFERENCES AND FRIDAY WRAP®, extended to January 5 for Balancing Act readers, BELOW:
NEW AND EXCITING:
Learn low-labor, high fee consulting for $5 a week. People are joining from all over the world. A five-minute video every week to build your career immediately. Created after sold-out teleconference and New York workshops. You'll receive all past editions when you sign up!
12 editions, beginning in January. Ten members of the Mentor Hall of Fame will interview me and two people chosen from subscribers will interview me on the other two occasions! Twelve hours with me "unplugged." Large discount prior to December 31.
This will be a five-minute weekly podcast next year, 52 weeks of quick commentary on contemporary business events which can enrich (or endanger) your professional and personal pursuits. Learn what Pop Warner Football League concussions have to do with your clients' decision making, or what scuba diving has to do with committees.
My newest program, intensive, nine-month work with me assertively pushing you. This is NOT mentoring, but focused, continual work to produce that book, enter that new market, bring those new clients on board, create that better life balance. Limited participation. I call this KAATN (kick ass and take names).
Over the past year, six growth cycles of between five and ten people each have exponentially increased their business and enhanced their lives. We "renew" in March, and are accepting new members, or new groups if people choose to form their own groups. These include personal meetings in the groups and one-on-one with Alan, phone meetings, accountability partners, private teleconferences, etc. There are also discounts on all other offerings in Alan's communities, some of which are free.
ADVANCED WRITER'S CIRCLE
Monthly, January through December 2013
Join in a monthly call to critique your submissions for books, teleconferences, video series, blogs, newsletters and so on. Perfect for the "major" writing projects. I take only 10 people, five slots remain. Over the prior two years, people have improved their writing from laborious articles to accepted book proposals. $2500 for the entire year! Write to [email protected].
March 13-14
Alan's Home, East Greenwich, RI

In this unparalleled program of no more than six people, we spend two intensive days creating aggressive and highly effective promotional programs for you. "If you don't blow your own horn, there is no music." I have two openings only in each of the sets of dates above. Fee is only $4,000, which includes lodging, all meals, and all local transportation. You just have to get there and return!
TWO SESSIONS IN FEBRUARY ARE SOLD OUT.

Use this page to register: http://summitconsulting.com/store/quick-pay.php
March 21
Toronto, Canada

These sessions have been sold-out in Boston and LA. Spend an entire day with Alan, in a session that normally costs at least $1,000, for a tiny entry fee, his way of paying back. Learn the basics (and the tricks) of marketing, value, fee setting, implementation, lowering labor intensity, and so on. This is the only such session scheduled in 2013.
April 7-8, 2013, The Pierre Hotel, New York City

A rare repeat of one of my most popular workshops ever, the first day focuses on the philosophy, creation, formulation, and marketing of strategy. The optional second day focuses on actual client implementation and/or implementation for your own business. Complete documentation is included from an actual strategy project that required several months. Overwhelming demand for this rare program.
April 9, 2013
The Pierre Hotel, New York City

I'll take a limited number of people through the same processes I use to quickly create globally popular offerings, such as Common Sense Consulting (above) in teleconference, workshop, and subscription forms, using participants' IP and "sweet spots." Very personalized. This will sell out, enroll ASAP. I'll show you how I made over $200,000 within 21 days by monetizing IP, and then WE'LL TAKE YOUR IP AND DO THE SAME THING! Do not miss this, i's the only one scheduled.
April 22-26, 2013
Newport, RI

Join the 200 elite people who have participated in this unique program that has been offered in Newport, Boston, London, and Sydney. Everything you need to begin a business or dramatically grow an existing business, from marketing to delivery. There is no other offering like this in the world.
THE GAME CHANGER FOR MANY OF YOU:
October 21-25, The Breakers, Palm Beach, FL

In the all-new Fundamentals Experience, Oct. 21-22, you'll learn how to formulate, nurture, and consistently create the IP which leads to thought leadership. MY SPECIAL GUEST IS RANDY GAGE, the global thought leader in prosperity and abundance-thinking whom you would otherwise never hear in a small group.

Oct. 23-25 is the Thought Leadership Graduate Experience, focusing on leveraging prior participants' success and solidifying thought leadership. MY SPECIAL GUEST IS DAN PINK, author of "Drive" and other best-sellers, who will chat interactively about gaining and sustaining thought leadership. Both Randy and Dan will be at some of our meals for more informal talk.

There is no place else in the world to experience a week like this in your development and success track. ONLY FIVE SEATS remain in the Graduate Experience. Can you afford NOT to attend? If you attend the first two days you are qualified to attend the next three if you so choose.
---
Work with the strategic technological genius, Chad Barr, Master Mentor and Mentor Hall of Fame member, who is behind all of my web activity (and co-author with me of Million Dollar Web Presence). His team will create "instant" intellectual property from your material and place it in a variety of forms on the Internet on a continuing basis.

I'm in a very high-end restaurant, where I'm hosting some people, and enjoying every bit of it. I have the sommelier hovering, and order the wine I've chosen by bin number, in this case number 295.
"Are you certain?" he whispers.
"Of course I'm certain, it's a fabulous Bordeaux."
"I'm afraid, sir, it's a Riesling."
"A Riesling? Why would I order Riesling with these meals? Look," I said pointing, and irritated, "it's right here."
Bending closer, he muttered, "You're pointing to the price, sir, not the bin number."
He received an excellent tip.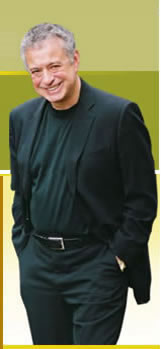 Balancing Act® is our registered trademark. You are encouraged to share the contents with others with appropriate attribution. Please use the ® whenever the phrase "Balancing Act" is used in connection with this newsletter or our workshops.
Video Rant

See Writing on the Wall, featuring Koufax the Wonder Dog.
Visit my blog

Two new podcasts every week. Special cigar smoking room.
Join the Friday Wrap®
Weekly, 15-minute podcasts with segments on current business events, new intellectual property, and some humor. Monthly, ten-minute videos on business and self-development. And a full-day, free conference in mid-year. Three full work days—24 hours—of programming for a few dollars an hour in investment. Get this weekly booster shot right away. You'll get all the archived material.
2013 Teleconference Series
A series of wide-ranging interviews with me, with 10 conducted by members of the Million Dollar Consulting® Mentor Hall of Fame.
Shameless Promotion
East Greenwich, RI
Scheduled on demand
One-to-four people participate in a rigorous two days of promotional "mayhem," in which we create assertive and powerful approaches to mold thought leaders, "go to" people, interviewing targets, and objects of interest. The second course is now completed, and we ensure compatibility by vetting applicants. Nothing else like this if you seek to "rise above the noise." One to four people, scheduled at mutual convenience. The third one has recently been formed.
The only way to get the attention of the truly self-absorbed is to talk about them!—AW