Printer Friendly Format
Balancing Act: The Newsletter (No. 107: July 2008)
How to stop second-guessing yourself:
Focus on the objectives of your decision, not the alternatives. Happiness and success arise from results, not arbitrary options.
Make sure you consider risk. Most plans and options fail because people become giddy about benefit but completely overlook the need to do anything about potential risks.
Separate risk into probability and seriousness. Those two factors require two different kinds of preventive and/or contingent actions.
On the majority of matters, give yourself permission to fail. It won't be fatal.
Create a "fallback" position in case you fail. The war has often been won after the battle has been lost because the army had a second line of defense prepared.
In major decisions, involve others. Whether personally or professionally, avail yourself of the intelligence and experience of others.
Conversely, never accept unsolicited feedback. It is always given for the benefit of the sender, and it will cause you to be bounced around as if you were in a pinball machine.
Create acceptable degrees of success. You're after success, not perfection, right? So never allow yourself "not to succeed enough" (which some horrible bosses do to subordinates).
Remember that insanity is represented by doing the same thing over and over and expecting different results. Luck is always trumped in the long run by skill and talent.
Engage yourself in the next aspect of your life. Don't mope around an unsuccessful or disappointing decision. Look through the windshield, not in the rear view mirror.
Herd loyalty
I've created a small firestorm over on my blog by pointing out that most blogs are quality quagmires, social networking isn't the way to meet executive buyers in major corporations, and a lot of stuff posted on YouTube and other public sites ranges from obscene to banal and back to insipid.
These are empirical observations (and my opinion)!
Well, along come the cyberspace gang who start shooting at me. (Fortunately, the ship is heavily armored.) They proceed to inform me of some quite salient facts, such as the ability to forge consumer-to-consumer conversations and interact with a wide diversity of interesting people. But they also besiege me with pure hyperbole, such as (I'm not kidding), "The greatest minds of the 21st Century come to my blog."
Ironically, the vast majority of writers have terrible Internet presence and dull blogs. But the most important aspect is that they miss my point: I was merely talking of consultants trying to reach corporate buyers, not social networking as a phenomenon. Nevertheless, they were bitterly offended for my suggesting that their sandbox was in any way in disarray.
We can't maintain a "herd loyalty" mentality and conduct a healthy life. For example, if I'm an architect and you say, "All architects are charlatans and failed artists," I have a right to be angry about your prejudice, ignorance, and rudeness. If you say, "Some architects I've met really aren't qualified to do more than a house extension," then I need to be about my business, because there is nothing personally offensive in that statement.
And if you were to say, "I hired an architect whom I finally had to sue for fraud," I may empathize or go find a drink, but I have no reason to be upset. You're not talking about me. There are some lousy and dishonest architects in a profession which had a constituency of over 100,000 in the U.S. alone.
The wider the scope of what we choose to take personally, the more insecure we are. It's wonderful to root for a team, but if someone doesn't like your team you shouldn't take it as a personal affront. I'm capable of telling better consultant jokes than anyone, and provide some humor about my profession, without demeaning it or me. "You're either for us or against us" is not an intelligent rationality, it's a bunker mentality. (And it's what's wrong with much of our political system.)
The whole herd doesn't demand my loyalty, never mind the entire species. There are some pretty bad consultants practicing, there are a lot of incredibly pathetic blogs, and there are even those who suggest there exist better pitchers than Sandy Koufax.
These things happen. I'd suggest that you're a healthy individual when you don't take offense at something that clearly doesn't pertain to you as an individual. If you hate Dr. Phil, I don't take it as a personal affront just because I've studied psychology.
In fact, I just may think the better of you for it.

When I was in grade school, my friends and I learned quite rapidly to stay away from the bad guys—the bullies and personality disorders who would slam you around for no good reason at all except their own insecurities.
Of all the people we feared, the absolute worst were a pair of brothers with the bizarrely improbable name of McGubgub. They were almost always together, were never heard to speak in a complete sentence, and were haphazardly and randomly violent. No one knew of any school either had ever attended, and no one even knew where they resided.
They had no interest in sports of any kind, didn't "hang out" with a gang or friends, but were purely two loners who were the equivalent of a live grenade.
My mother didn't believe they existed, and would chide me for believing in some fiction my friends had made up. (I guess this was an attempt to label the McGubgubs as one of the first urban legends, except legends don't normally turn you upside down and shake the change out of your pockets and the snot out of your nose.)
One day while I was watching our old Dumont black and white (who says I wasn't in the vanguard of the electronic revolution), my mother started yelling in the kitchen. I looked around in a panic trying to decide what trouble I might have caused. I thought I had stashed the empty whipped cream container behind a cabinet.
"Look!" she yelled, emerging with the local paper, "Police arrested a Joseph McGubgub today in connection with a local burglary. They are pursuing other suspects. He actually exists?!"
"Yeah, and so does his brother, who you'll finally admit to when they catch that other suspect," I remarked, returning to an "I Love Lucy" show, reminiscing about how good the whipped cream was directly from the Ready Whip can into my mouth.
Skepticism is fine, but we have to retain some room for plausible surprises. I have a hard time believing those folks who say that aliens in spaceships abducted them and performed surgery, but I'm ready to believe there is life elsewhere in the universe. Heck, we're still discovering life on the ocean floor that we were sure couldn't exist, like non-carbon-based life forms thriving on molten vents about seven miles deep.
In my career and life, I've seen customers steal right out in the open, just as employees claimed; I've witnessed a two-person handcar shutting down a highway and rail line while the guys cranked the thing through major intersections twice a day; I've been in planes hit by lightning five times; and I've heard a dog say, quite clearly, "I love you."
It's wise to be skeptical on occasion, but never intractably so. You never know when the exact phenomenon you've been denying will wind up right on the front page, having robbed a store and robbing you of your lofty perch.

My wife and I drive up with the car's top down to our local Dunkin' Donuts one night to get our usual coffee order to take home. One of the regular workers is at the window, and says, "That will be $6.58, please." Then she does a double-take, looks at us again as if for the first time, and says, "Sorry, I mean $5.26."
"Why the reduction from the usual price?" I asked.
"I never realized before that you two qualify for the seniors' discount," she observed. My mouth agape, my wife said, "Just drive."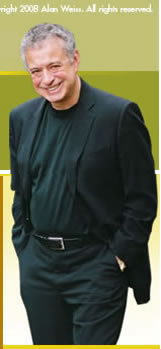 Balancing Act® is our registered trademark. You are encouraged to share the contents with others with appropriate attribution. Please use the ® whenever the phrase "Balancing Act" is used in connection with this newsletter or our workshops.
Video Rant

See Writing on the Wall, featuring Koufax the Wonder Dog.
Visit my blog

Two new podcasts every week. Special cigar smoking room.
LAST CALL FOR: Alan's Atlantic
New York to London on the Queen Mary II, September 4-10
- Stateroom on the Queen Mary II sailing on September 4 from New York.
- Meetings daily in Alan's 2,400 square foot, bi-level suite, including cocktails and food.
- Informal meetings around the ship, at the pool, buying art, spa, gambling, etc.
- Exclusive dinner, break open a $1,000 bottle of wine. (I'm not kidding.)
- Attend The Coach in London if you wish for free on Sept. 11-12 (ship docks on the 10th).
- Informal time to do your own thing throughout.
- All meals are included. Gambling, booze, tips, etc., are not.
- Informal time to philosophize and explore the universe with Alan.
- You can upgrade your accommodations on your own if you like.
This is the grandest ship afloat, and only four suites like mine exist. The fee is $9,500. Trip insurance included. Once in a lifetime.
I MUST HEAR FROM YOU BY JULY 3 IF YOU INTEND TO SAIL WITH US!
The Coach
London, England, September 11-12
The Haymarket Hotel
Watch, practice, and apply coaching methodology for a variety of situations followed by marketing guidance and fee criteria so that you're not lost among the "coaching crowd."
The Strategist
Sydney, Australia, October 8-9
The Park Hyatt Hotel
This program sold out in Providence and London. Learn how to separate strategy and tactics instantly; learn and apply Alan's favorite model to your clients and/or your own practice; understand how to validate strategy before implementation; master all key execution steps. Limited seating. Learn in 1.5 days what others take months to try to comprehend.
Million Dollar Consulting® College
Newport, RI,
November 10-14
The Castle Hill Inn

The finest developmental experience for professional service providers, featuring business acquisition, fee setting, branding, market gravity, the language of the sale, proposals, and much more. Read the testimonials and look at the photos.
Million Dollar Club
November 3-5, 2008 at The Four Seasons, Nevis, West Indies
We are inviting a dozen people who are solo practitioners or small firm owners in the professional services space, who make a minimum of seven figures annually, for a three-day meeting at a very high-end resort. We will exchange marketing ideas, collaborate on leads, mutually solve business problems, examine maximization of profit, and also have access to great golf, tennis, scuba diving, etc. No outside presenters, only a very successful group facilitated by Alan Weiss. Significant others and spouses are welcome. All lodging, meals, and local transportation are included. The fee is $15,000 and we'll adjust the dates to match the participants. A rare opportunity to be with the best of the best, where you belong, to prepare for 2009 in style.
NEW: Self-Esteem Workshop
December 2-3, Providence, RI
The Crowne Plaza Hotel
The intent is simple. Building on my work with individuals around the globe, I want to help you: Identify the uncertainties, perceived vulnerabilities, and situations which cause you to perform at less than your optimal capacity; understand the causes of those dynamics, and receive timely yet non-threatening feedback about how to resolve them; master and apply techniques that will help you maintain and manifest a high self-esteem level "in the moment" when it is most needed; avoid the debris and detritus in your life which tend to damage self-esteem, and focus on the routes of least resistance to self-worth and its manifestation. In brief, personally and professionally, you will be able to deal with daily routine and exceptional circumstances; with varied and often tough personalities in your life; and to overcome the problems caused by pressure, unfamiliarity, and perceived threat.
Million Dollar Consulting® College
Sydney, Australia,
February 16-20, 2009

The finest developmental experience for professional service providers, featuring business acquisition, fee setting, branding, market gravity, the language of the sale, proposals, and much more. Read the testimonials and look at the photos. Steep discounts for registering early, this is only the second College ever run outside of the US.
From Six Figures to Seven
March 16-18, 2009
Las Vegas, NV
The White House Conference Center
Only 30 people will share this 2.5-day program to learn the major tactics required to move to and through the million dollar mark. TWENTY SEATS ARE ALREADY TAKEN. We will help you become a visible thought leader in your field, create "communities" of support, engage in advanced promotional tactics, and a lot more. We'll also be sharing the best practices of the Million Dollar Club. This will be quickly sold-out.
Self-esteem is an ongoing action that results in a condition called "self-confidence." -- AW