Printer Friendly Format
Balancing Act: The Newsletter (No. 177, May 2014 )
Follow me on Twitter! You can find me here:
http://twitter.com/BentleyGTCSpeed
Every day I provide 2-3 brief, pithy pieces of advice for growth. Join the thousands who read these "quick hits" every morning.
And find me on Facebook:
http://www.facebook.com/profile.php?id=788474935&ref=profile
Free consulting newsletter: The Million Dollar Consulting® Mindset:
http://summitconsulting.com/million-dollar-consulting-mindset/
Monthly, fast advice on consulting techniques with case studies.
Order liquor by brand, but only when it makes a difference. You want excellent vodka in a dry martini, bit it really doesn't matter in a vodka and tonic or Bloody Mary.

You eventually change your favorite clothes because they wear out or don't fit any more. Sometimes you may have to change your friends for the same reasons.

There's a great song in the play Chorus Line where a woman sings, "Who am I anyway? I'm not my résumé." Every day you get to create who you are, not simply extend who you've been.

I'm really weary of the fastidiously self-absorbed. If you don't want dog hair on your clothes, then don't sit on my furniture and you'd better be able to outrun a full-grown German Shepherd.

Three kinds of stories bore me so badly I'll leave the room: golf, weight loss/exercise, and boating (unless you're the captain of an aircraft carrier gaining exercise by hitting balls off the stern).

I'm writing this on a train traveling from Providence to New York, through drizzle and fog along Long Island Sound. I'd take this trip even if I didn't have business in New York, it's that good.

Most people speaking too loudly at a bar, in a restaurant, on a phone do so because they need others to hear them, to try to prove how important they are and/or how much fun they're having. Best antidote is to ignore them.

The tobacco people are at least honest. They put the warnings on the packaging and tell you they're in this to make money, smoke at your own risk. CVS takes the holier-than-thou position of banning tobacco, but selling sugary candy, homeopathic medicines, super sweet drinks, and so on. It's easy to cast the first stone for too many people.

Dogs love to chase anything that moves. The phenomenon is called "predatory drift." Too many people see something moving and immediately duck.

I'm impressed by a big heart much more than a big house.

Few things, conditions, or eventualities ever make me speechless, but I'll admit to one questions which brings me to a roaring stop, ceramic brakes engaged and radical downshifting in action: "What will make you happy?"
I have a healthsense of healthy outrage. I expect people to make things right when they've first made them wrong. And I'm gratified 95 percent of the time by the response of a refund, or free night at the inn, or gift certificate, or special offer. But when they say, "You're right, we're wrong, what will make you happy?" I usually stammer, "Well, that's ah, er, good to know. I'm okay."
My point here being that we take on too much pressure, too much responsibility. Acknowledging and accepting responsibility for an error is laudatory, but then transferring the redemption to the aggrieved party is rather fitting (and brilliant). The therapist asks, "Well how do YOU feel about that?" when we seek the therapist's approval or remedy. In the Confessional, the priest says, "And do you think that was wrong?" (When I converted eight years ago I expected to be harshly reprimanded, not treated as a responsible adult!)
I had the good (and bizarre) fortune to meet Bill Oncken in the 70s, the legendary time management guru. He told us never to allow others to leave a "monkey" on our desk. I took that to heart, as many of you can attest, and never allow anyone to delegate to me (unless you've been married to me for 45 years). I think the same applies to penance for errors and sins committed: I've admitted it, now tell me what you need, because I don't want the burden of having to suggest it.
Ritz-Carlton, of the "ladies and gentlemen serving ladies and gentlemen" fame (and too often deteriorated under Marriott ownership) famously used to empower employees to spend up to $2,500 to please an unhappy guest with a legitimate (or even vague) grievance. The problem is that employees, using "house" money and not their own, routinely over-compensated for the problem. They'd offer a free night when a dinner would have sufficed, a free dinner when a drink would have done the trick, a drink when a simple apology would end the issue. I believe that policy has since been abandoned under Marriott parsimony.
So, we all make errors. Ask the aggrieved party what will make them happy. It's often less than you'd imagine but more than enough.
The human condition: Hedonism
Hedonism gets a bad name. It's simply the pursuit of personal pleasure. Aristippus, a student of Socrates, is usually credited with the creation of "ethical hedonism."
I'm not talking about the more colloquial version, where personal pleasure is the sole goal, even at the expense of others. I'm talking, rather, about a philosophy of being comfortable and guilt-free in providing yourself with salutary circumstances.
I spoke to someone recently who has been under significant business pressure and has decided to relieve the tension and stress with six weeks in Spain with his family. He feels it's his due, and I agree. It's a wonderful reaction.
Yet I find many people—and, I beg you not to throw tomatoes at my cars—women are far worse at this than men, and they'll go to a spa for a massage to relieve stress while feeling so guilty that they build up more stress than the masseuse can relieve! (Do not lie to me, you know whom I'm talking to.)
What's wrong with treating yourself well if it enables you to treat others well? If I feel good about myself, I feel good about my work and my contributions. I don't mind traveling, or making extra efforts, or extending favors, if I am feeling good about it (as opposed to feeling prevailed upon or taken advantage of.) If you are in "doom loop" of feeling guilty every time you give yourself a break, the result isn't "merely" your own stress levels skyrocketing—it's also a deterioration of your ability to be effective and powerful.
If you are paying for or earning the privilege, why shouldn't you take pleasure in a limo, a suite, a first class suite? A starlet of the 1930s famously remarked, "A private railroad car is not an acquired taste. One gets used to it instantly."
So long as your endeavors are not at the expense of others, why not renew and regenerate your energy by treating yourself well? The airlines tell you to put your own oxygen mask on first before attempting to help others. You also need to attend to your own happiness first before supporting the happiness of others.
Hedonism gets a bad rep. There's nothing wrong with treating yourself well so long as you're treating others well.
---
DEVELOPMENT OPPORTUNITIES
June 3, LA, Airport Hilton Hotel

There are critical thinking skills which can be used instantly with impressive influence to solve problems, make decisions, innovate, negotiate, and so forth. This session will explain them in both detail and rapid fire use, and make you adept at utilizing them.
June 2 in LA, Airport Hilton Hotel

Learn improve in the morning, how to apply in the buyer's office and stay in the moment in the afternoon. Unique.
June 24-25
The Koufax Retreat Center, East Greenwich, RI

Join a very small group at my home to create, deliver, and market a dynamic and highly valuable speech. Six months of work in two days. Includes local transportation, meals, and lodging.
May 5-9, Newport, RI, Ocean Cliff Hotel

I keep moving out and they keep pulling me back! I've had requests and people throwing money, so I'll do another at a time of year when it's often possible to have drinks on the beach. Join me for the longest continuing major event I conduct, now in its ninth year.
September 3-4, Providence, RI

I thought I was done with this, but popular demand requires a reprise. In 1.5 days learn a powerful methodology to run strategy interventions, create strategies for your clients, and add this valuable tool to your arsenal. One of my most popular programs ever.
Four Seasons, Palm Beach
Oct. 22-24

SOLD OUT, wait list only. Dan Pink thrilled everyone this year, and 18 of those participants immediately signed up again! The internationally famed political analyst James Carville is my special guest. The fee is $10,500.
Build your energy, renew your focus, create greater growth by taking an ongoing, weekly break, guided by these five-minute videos. A breath of fresh air in a busy life.
An hour's guide to personal and professional success with free downloads.
Do you have a small niche audience, or a book commercial publishers don't understand, or a need to launch a book quickly? I've self-published, have a crack team, and we can get books into print that are highly impressive, hard copy and/or electronic. We can even create special web pages and video promotion.
Register at

[email protected]


May 27-28
Koufax Retreat Center, East Greenwich, RI

Attend to the most profound obstacle to further success is a small group at my home. Only three spaces remain. Build your self-worth before your eyes. Feel confident in any situation.
I have selected openings in the Super Coaching Program (KAATN: Kick Ass and Take Names)

I've helped people: obtain six-figure contracts, make major media appearances, gain meetings with top people (some nationally known), have proposals closed, start new businesses, gain greater visibility, build self-worth, obtain book contracts, create new brands, improve their web sites and blogs, and so on. The original group's nine months is about to end, so there are a few openings.
now available for 2014

As of 2014 there will be a Diamond Alan Card. (Colleen Francis calls this "all in," which is a poker term, and Colleen gambles on cards. My biggest gamble is wolfing down shellfish at dives on the Jersey Shore.) The card will entitle the bearer to partake of my offerings below (I've indicated as much as I can about next year and whether fees will increase or be stable).
Use my excellent professional colleagues as resources in areas such as personal wealth building, positioning messages and brands, and establishing C-level relationships. You can see what Phil Symchych, Mark Levy, and Andrew Sobel are offering with my endorsement here:
---
Work with the strategic technological genius, Chad Barr, Master Mentor and Mentor Hall of Fame member, who is behind all of my web activity (and co-author with me of Million Dollar Web Presence). His team will create "instant" intellectual property from your material and place it in a variety of forms on the Internet on a continuing basis.

I ordered a rather nice Italian wine at a restaurant I was dining in for the first time, hosting three clients. I told the captain, "We'll have number 295."
"I'm sorry, sir," he replied, "but there is no bin number 295."
"Do we have to call the sommelier?" I asked. "I'll show you where it is," and I pointed to a high-end Amarone on the wine list.
The captain leaned down and whispered, "Sir, that is the price, not the bin number."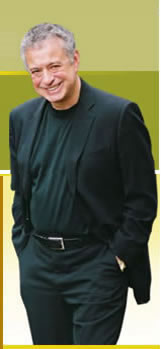 Balancing Act® is our registered trademark. You are encouraged to share the contents with others with appropriate attribution. Please use the ® whenever the phrase "Balancing Act" is used in connection with this newsletter or our workshops.
Video Rant

See Writing on the Wall, featuring Koufax the Wonder Dog.
Visit my blog

Two new podcasts every week. Special cigar smoking room.
Thought leaders don't have to justify their positions. Their expertise grants them the privilege of making predictions, citing best practices, and offering new ideas.—Alan Weiss