Printer Friendly Format
Balancing Act: The Newsletter (No. 181, September 2014 )
Follow me on Twitter! You can find me here:
http://twitter.com/BentleyGTCSpeed
Every day I provide 2-3 brief, pithy pieces of advice for growth. Join the thousands who read these "quick hits" every morning.
And find me on Facebook:
http://www.facebook.com/profile.php?id=788474935&ref=profile
Free consulting newsletter: The Million Dollar Consulting® Mindset:
http://summitconsulting.com/million-dollar-consulting-mindset/
Monthly, fast advice on consulting techniques with case studies.
Let others rejoice without your ego in play. I published that Nantucket is God's Country, and a woman in Holland felt compelled to write that Holland is God's Country and showed photos of people building dikes (done by men, not God)!
Most issues blown out of proportion are done so by the responder after an imagined slight (e.g., road rage). Choose your battles carefully and rationally.
An important lesson from that incredible talent, Robin Williams, is that some conditions (fighting depression, building esteem, maintaining relationships, etc.) require DAILY attention, not occasional review.
You don't owe others explanations for your action. "Because I can" is a legitimate and suitable response to inappropriate inquiries. (Why do you drive a sports car to Nantucket?)
A great way to get even more out of a wonderful book is to discuss it with others who have read it.
A naturalist said that "Wild (African) dogs do everything domestic dogs wish they could do." Really? Do they ride with their heads out of cars, get two square meals a day without trouble, and play Frisbee? To each his own, and that includes us.
When you make a speech, have a conversation with the audience.
The key to the success of your work is how happy your customers and clients are. If you instead rely on feedback and evaluations from peers, all you'll get is indigestion.
A wave creamed me the other day, so I picked myself up, emptied the sand and seaweed from my suit, laughed it off, didn't care what anyone watching thought, and plunged back in. That's what you do in business, too.
I don't care what your rationalization, if you're working on weekends and wish you weren't, there is something wrong either with your job or the way you perform it.

I find myself dealing with many people—as a coach or confidante—who sacrifice their well being because they are afraid of being disliked or unpopular. Their self-esteem is such that they won't risk ruffling the feathers of a parakeet, an eagle—or of a dodo.
One stereotypical scenario is the solo practitioner who won't even ask a friend for a referral to an important third party, a potential customer. In other cases, a secretary or assistant is sufficient for a delay. I've seen people wait months because they don't want to "inconvenience" or push anyone to take (what I would describe as) expectable professional action. Instead, they bide their time.
And grow old.
People attend events they'd rather not, eat food they detest, and tolerate conditions others wouldn't because they don't want to "upset" a friend, or host, or stranger. They wonder why the situations keep repeating, which is not really a mystery, since their actions (or lack of actions) enable the very behavior that bedevils them.
We help others most, I'd think, through candor. I don't mean caustic feedback, but honest communication which describes why something shouldn't be delayed, is unpleasant, or is inappropriate. (We met someone here in Nantucket who agreed to everyone that his house could be visited by extended families, and it was wall-to-wall sleeping bags. He had to go out on the beach alone to get some piece, leaving his very expensive rental in the hands of the invaders. But, he's the one who opened the gates.)
I hear, "That would put her in an awkward position," or "He just needs more time," or "What difference does it make if we agree to do what they ask?" I'm not suggesting that we demand to always have our way, not that we should never compromise.
But you can't take your likeability index to the bank to pay the mortgage, nor can you tell the electric company that your payment should be ready in the next three months.
The biggest favor we can pay people is to be honest, open, and represent or own interests in addition to listening to theirs. Otherwise, you may have a strong wind, but you have no rudder.
The human condition: Validation
In the speaking profession, one sees a great many speakers perform metaphoric back flips on stage in order to get the highest ratings on the evaluation sheets (smile sheets) and/or the standing ovation (no matter how tepid0 at the conclusion. You may think this is merely ego or misplaced emphasis, but it's something else: a need for validation.
When we need others to validate us (prove truth, validity, accuracy, and so forth) we intentionally or unintentionally try to manipulate them. Like German Shepherds, we try to nudge and direct people toward what we perceive to be validation—the high rating, the ovation.
In business, we hear people rapidly jump on others' bandwagons to show they are early supports. Many senior people are surrounded by "yes men" who show unqualified support, no matter how daffy or loony the project may be. We manipulate our spouses, colleagues, children and others to help validate us. Sometimes we bribe them, sometimes we set up situations where we can "shine," sometimes we actually try to prompt the applause. (Did you ever watch Jay Leno start the applause after a joke by clapping his own hands? I was always shocked that such a star never lost the habit.)
There are people who can't offer a suggestion or make a comment without citing two Greek philosophers, a Stanford medical study, three government reports, and a psychic. They feel their expertise isn't sufficient by itself, so they need other sources to help in their validation. They come armed with backup support!
The resolution here, obviously, is to be comfortable validating ourselves. I've never needed an audience to tell me whether I'm effective, and often I'm hired specifically to provoke and incite a group (I know that's hard to believe, but there you have it). We have to be comfortable in our own skin, to know who we are, to recognize poor, average, good, and great and to be comfortable with having done our best. We should expect others to accept our opinion based on past relationships, the wisdom of the argument, and/or civility.
I think it was Emerson who said, "Your behaviors are so loud, I can't hear you." I'm impressed by who you are and how you comport yourself, not by a pile of smile sheets. In fact, whenever I see ratings consistently at the top, I know that person was simply pandering to the audience.
Pandering is not valid.
---
DEVELOPMENT OPPORTUNITIES
NEW!

Million Dollar Consulting® Convention
March 11-13, 2015, Atlanta
Special guest: Dr. Martin Seligman, author, Learned Optimism Three general sessions, nine concurrent sessions, roundtable learning Register early on my site beginning Sept. 3 for major discount (or register now by email: [email protected]
Beginning September 2, 2014

For almost pennies and item, receive very brief video, audio, and print assistance each week to build your self-esteem and deal with your life and career from a position of confidence and calm. Poor self-esteem is the biggest obstacle I've seen to people's progress. You can still sign on from the very beginning of the series.
September 29, New York City

Learn a systematic methodology for innovation to use with your clients and improve your value and fees, based on my book that was used at the Wharton School. Nothing else like it.
December 8-12
Castle Hill Inn, Newport, RI

Join 300 people globally who have participated in this intense, accelerated learning. And you can qualify for the 10th Anniversary Grad School in Laguna Beach next May. Last chance to do so, you must be a graduate. NOTE: I am also accepting registrations for December 7-11, 2015, especially to accommodate people around the world who need advanced lead time. Two people already enrolled.
Four Seasons, Palm Beach
Oct. 7-9

Special Guest, Robert Cialdini, author, Influence and Yes!
This program is sold out every year, register now to claim your seat in an intimate program:
Build your energy, renew your focus, create greater growth by taking an ongoing, weekly break, guided by these five-minute videos. A breath of fresh air in a busy life.
An hour's guide to personal and professional success with free downloads.
Do you have a small niche audience, or a book commercial publishers don't understand, or a need to launch a book quickly? I've self-published, have a crack team, and we can get books into print that are highly impressive, hard copy and/or electronic. We can even create special web pages and video promotion.
I have selected openings in the Super Coaching Program (KAATN: Kick Ass and Take Names)

I've helped people: obtain six-figure contracts, make major media appearances, gain meetings with top people (some nationally known), have proposals closed, start new businesses, gain greater visibility, build self-worth, obtain book contracts, create new brands, improve their web sites and blogs, and so on. The original group's nine months is about to end, so there are a few openings.
now available for 2014

As of 2014 there will be a Diamond Alan Card. (Colleen Francis calls this "all in," which is a poker term, and Colleen gambles on cards. My biggest gamble is wolfing down shellfish at dives on the Jersey Shore.) The card will entitle the bearer to partake of my offerings below (I've indicated as much as I can about next year and whether fees will increase or be stable).
Use my excellent professional colleagues as resources in areas such as personal wealth building, positioning messages and brands, and establishing C-level relationships.
---
Work with the strategic technological genius, Chad Barr, Master Mentor and Mentor Hall of Fame member, who is behind all of my web activity (and co-author with me of Million Dollar Web Presence). His team will create "instant" intellectual property from your material and place it in a variety of forms on the Internet on a continuing basis.

During the summer, there's always a line at the pool store on a Sunday to have water tested. I couldn't avoid it, so I drove to the store early, arriving 15 minutes before its 9 am opening time. I tried to occupy myself, listened to music, then read all the signs in the window. As I came to the door, there was a notice of operating hours, which begin at 8 am on Sunday.
I went inside and got on line.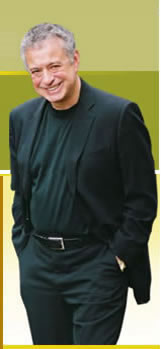 Balancing Act® is our registered trademark. You are encouraged to share the contents with others with appropriate attribution. Please use the ® whenever the phrase "Balancing Act" is used in connection with this newsletter or our workshops.
Video Rant

See Writing on the Wall, featuring Koufax the Wonder Dog.
Visit my blog

Two new podcasts every week. Special cigar smoking room.
Don't mistake "being polite" with enabling other people's bad habits. —Alan Weiss