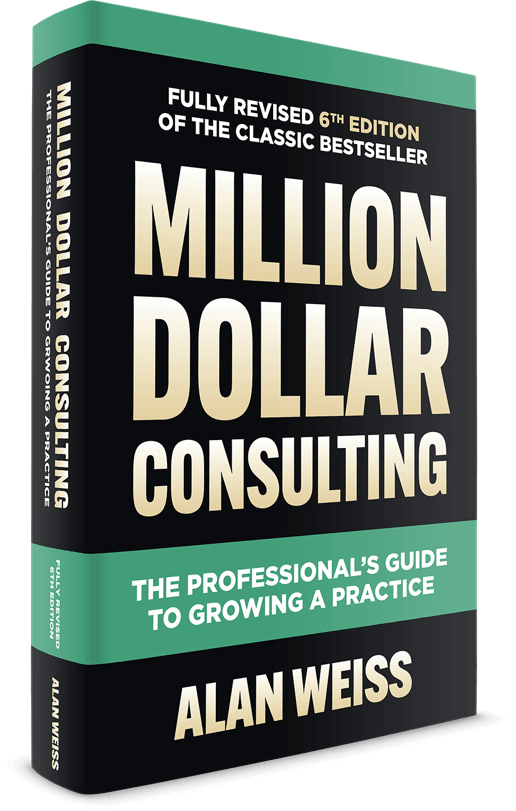 THE PROFESSIONAL'S GUIDE TO GROWING A PRACTICE
Million Dollar Consulting is THE seminal work on the profession for solo consultants and boutique firm owners.
It's been on the shelves for 30 years continually, and this sixth edition was written by Alan as if it's a new book entirely. It's 80% different from the fifth edition of five years ago, and of course includes advisory work, remote work, global work, passive income, post-pandemic strategies, evangelism, referral business, "magical" language, and much, much more.
There has never been a major consulting book dedicated to professionals that has had this longevity, and Alan has written more books for the expert practitioner than anyone, ever. Million Dollar Consulting is in five languages (that we know of) and has helped, literally, hundreds of thousands of practitioners and firm owners raise their revenues, increase their profits, and decrease their labor at the same time!
Buy a minimum of four copies and gain a complimentary seat in Alan's Zoom workshop
(November 22 at 10:30 eastern US time and recorded) introducing the new book and his latest thinking, worth $500.
And one such person who will be drawn at random from that group will receive a copy of the first edition, from 1992, personalized by Alan—a collector's item, no doubt.
Don't wait, the offer expires on the book's official release date, October 26, 2021.
IMPORTANT:
Bonus offer only available until October 26, 2021 at 12:01AM. Any submissions after that point will not be considered valid for bonus redemption. For further information email alan@summitconsulting.com for details.