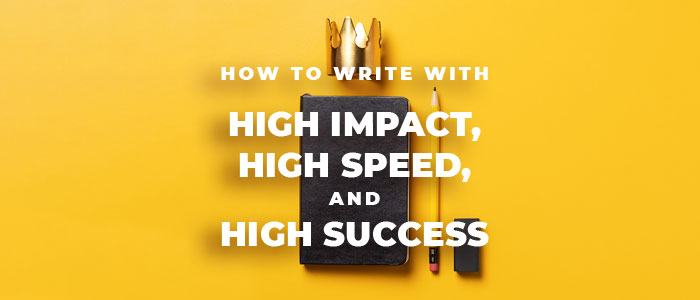 SECOND OFFERING: How to Write with High Impact, High Speed, and High Success
Would you like to blog three times a week without stress and in a manner that creates a positive reaction from readers? Would you like to finish writing your next book two months ahead of the deadline without major revisions, without tedious self-editing, and with tremendous appeal to your ideal buyers (and without stress)?
Would you like to write literate, influential emails, reports, recommendations, and even social media postings that stand out in a crowd and make you an object of interest?
Join me for a three-hour Zoom experience during which you'll master:
Powerful openings
Brilliant metaphors
Succinct but dramatic argument
"Assertive tact" and persuasion
Brevity and focus
How to market and sell through your written words
The session will include prep work for you to include a specified piece to submit, examination of writing of ourselves and others, specific IP to use to elevate your writing immediately, and much more.
Is it worth spending three hours with me so that can reduce your writing labor by half and increase your productivity by 100%?
I won't be asking you to be me, but I will show you techniques and options that I use which you can use immediately. I will guarantee that you will be capable of (assuming you have the discipline and accountability) writing a book in 90 days, writing a blog post in five minutes, posting on Twitter in 30 seconds, and cutting in half your email labor.
You have the opportunity to submit further pieces to me for 30 days after the session, with 48-hour or better critique and turn-around.
Date: February 2, 2021
Time: 11-2 US eastern time (west coast and Europe-friendly)
Fee: $1,400
Option A: In addition, you and I will co-write an article for publication online, of any length, or in a hard copy publication, wherever. You may include my name or not, up to you. We will finish this within a week. Fee, including the above program: $1,900
Option B: In addition, I will walk you through an eBook of up to 50 pages, critiquing the entire work and adding to your writing, if needed, examples, case studies, IP, etc. I'll help create the table of contents and contribute narrative. It is up to you whether or not to use my name. We will finish this within a month. I'll also help you with the topic and premise if you like. Fee, including the above program: $3,000