Be Prepared. This phrase was the original Boy Scout motto. It's not bad advice for all of us, or course.
Volume 11 Number 8
|

August 2021
Our mission is to spark new thinking and ideas for creating a thriving business and rewarding life.
Be Prepared
This phrase was the original Boy Scout motto. It's not bad advice for all of us, or course. Yet we're often caught unprepared—for pandemic, for natural disaster, for local wars, for polarization, for poor driving. We know these things will occur, but we're woefully unprepared, and often needless misery ensues. (As I write this, floods have ravaged parts of Europe and Germany's vaunted flood warning infrastructure apparently failed completely.)
We should be prepared for:
People who lie about being the buyer.
Buyers who claim they have neither money nor time.
Buyers who want "discounts."
Slow and delayed payment by clients.
Resistance from client employees.
Project-disrupting unexpected events.
Yet we seem to endure these and other problems as though we're experiencing them for the first time—every time.
Be More Prepared
You need to ask what the decision making process is and whose budget is involved, to distinguish between "no budget" yet the presence of funds that can be shifted, to refuse discount requests, and so forth. It's one thing to be caught off-guard by a novel issue ("We've just decided to sell the business because of an unexpected, incredible offer"), but it's criminally negligent to be thwarted by an issue you've heard multiple times, like a broken record.
This same principle applies to what can go right, not just what can go wrong. When the prospect says, "This would also apply to my European counterpart," you need to say, "Get her in here or on the line and let's put together a deal that achieves economies of scale!"
Summary
You need to think several moves ahead, like a good chess player. And like chess, you know the pieces and their ability to move, and you've seen most of the openings. Think them through in advance.
Rapid Growth Opportunities
Million Dollar Consulting® Global Online Program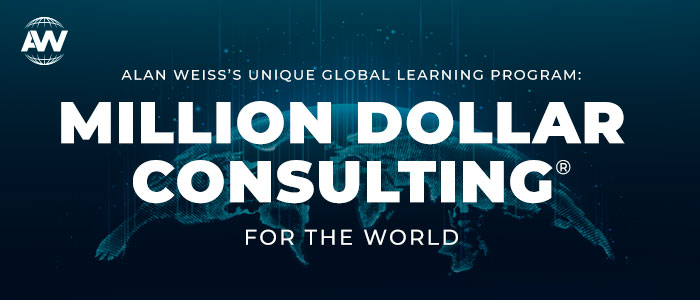 I've provided 14 modules with videos from me, from your colleagues globally, slides, and text. They include everything from launch to self-esteem, proposals to fees, closing business to creating a brand. No upsells! It's only $95 during this month. Fee increases August 1. What do you think about a 10,000:1 ROI?
LEARN MORE
MacKay CEO Forums
"As it's played out, I enjoy the time I spend with the CEOs in my Forums, it's extremely fulfilling to play a part in their growth and success as a Chair, we're handsomely compensated for our contribution and our unique value. The unexpected benefits in becoming a MacKay CEO Forums Chair are the insights I'm using to grow my core business." —Steve Foran
Watch the videos here You can add over a quarter million dollars to your practice remotely. [email protected]
Contact Nancy
The Consulting Bible II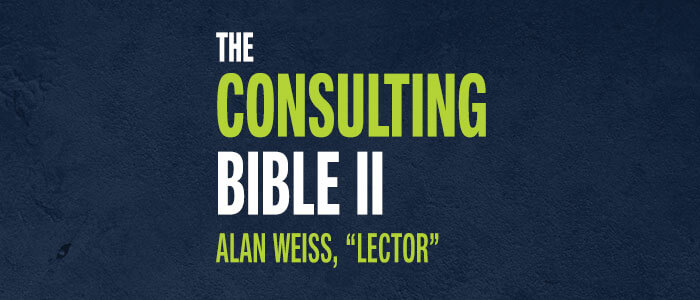 Publisher John Wiley has told me this is one of the "highest momentum second editions in their experience." Spend an interactive Livestream session with me as I walk you through, visually, my comprehensive approach to building and accelerating a dynamic consulting practice. You can ask questions in "real-time" or before or after.
LEARN MORE
By Invitation Only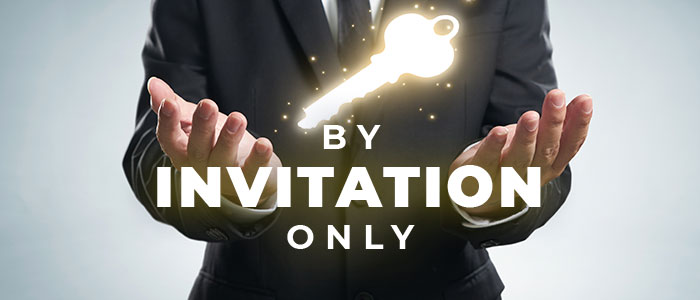 This is my "invitation" to you to be considered for my annual retreat with just a dozen colleagues. We discuss business challenges, new IP, thought leadership, financial planning, and a great deal more. We'll be at the Four Seasons in Palm Beach September 21-23. The fee is $16,000 and includes meals and lodging. Partners are welcome and the socializing is also fantastic.
Write me: [email protected]. Two seats remain.
CONTACT ALAN
Getting Started and Re-energizing Your Practice—In Atlanta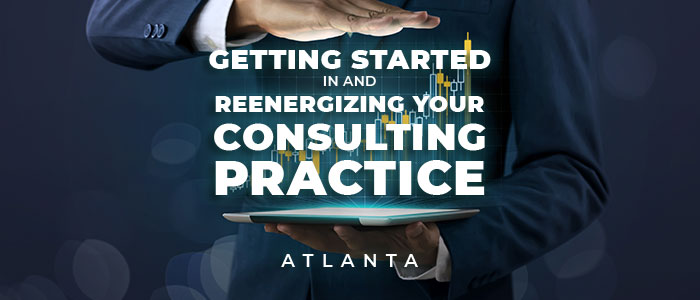 Boston and LA sold out and now I'm leading this full-day event in Atlanta, only $250 and I'm buying lunch! Extensive interaction while I cover fees, proposals, the three kinds of immediate sale, the five types of short-term business, how to be an instant peer of the buyer, creating your own unique "vault" and much more! "You exceeded my expectations, and you over-delivered! I kept waiting for an 'upsell' but it neve came." —Brian Rollo.
Register here while there is room. A full day with me is usually $20,000. If you don't mind a few more people in the room, this is a great deal!!
LEARN MORE
Alan Weiss's Million Dollar Consulting® Mindset Newsletter is a registered trademark of Alan Weiss and Summit Consulting Group, Inc.
© Alan Weiss 2019
You are subscribed as: _email_
To REMOVE or CHANGE this address,
click here: http://www.cctomany.com/lu/_ln_/_up_/_dp_/