The
Consulting
Bible
The New Second Edition
Everything you need to know about creating a successful, world-class consulting practice.
"…one of the most highly regarded independent consultants in America"
– New York Post
"…a worldwide expert in executive education"
– Success Magazine
Click here for your special bonus opportunities.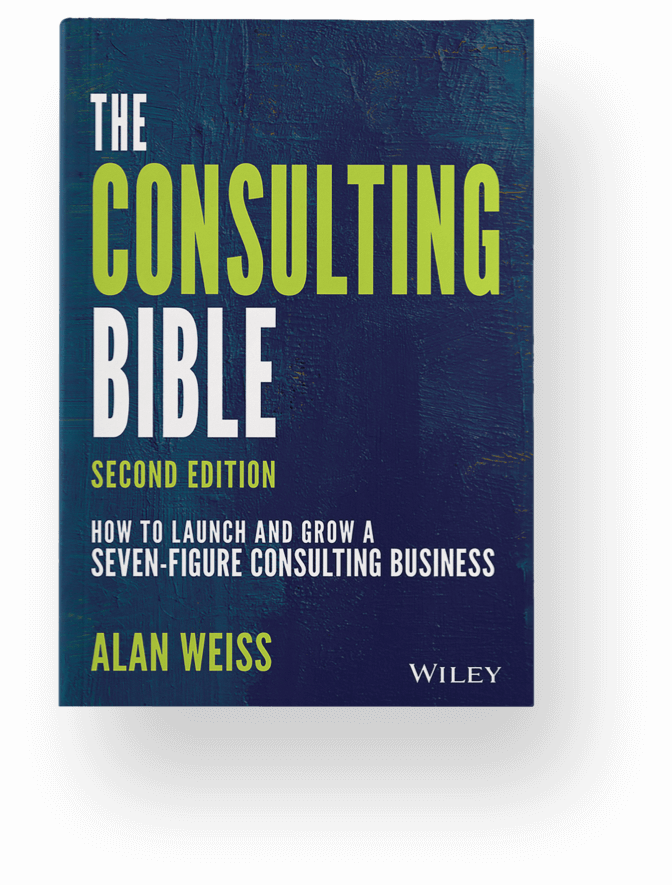 Available
June 22, 2021
Create a 7-figure independent or boutique consulting practice
Whether you're a veteran consultant or new to the industry, an entrepreneur or the principal of a small firm, The Consulting Bible tells you absolutely everything you need to know to create and expand a seven-figure independent or boutique consulting practice.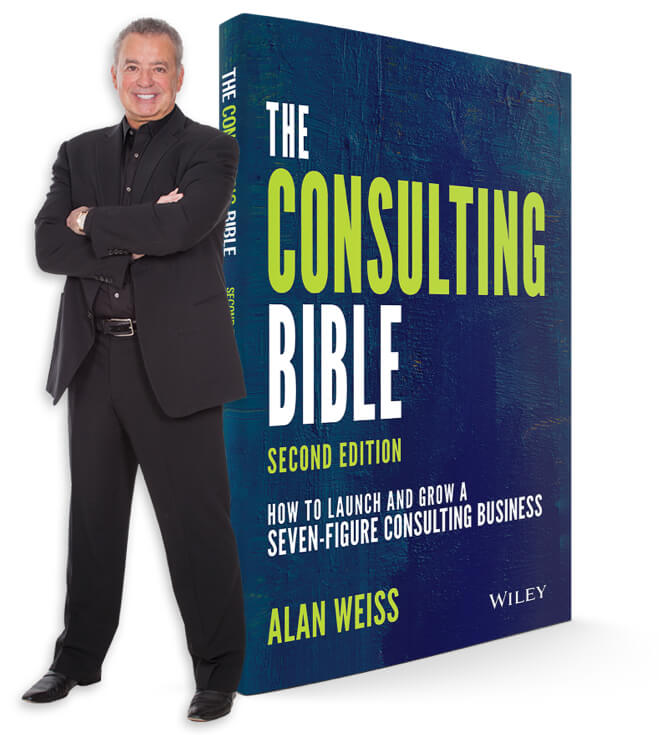 The most
comprehensive book

on consulting
This is the newest book by "the rock star of consulting," Alan Weiss, who coaches consultants globally and has written more books on solo consulting than anyone in history.
The Consulting Bible covers creating a practice, sales, marketing, fees, rapid expansion, legal, financial, globalization, technology, methodologies, and much more, including his new Million Dollar Consulting® Accelerant Curve, and the Market Value Bell Curve. It provides examples of success in the post-pandemic, remote, artificial intelligence, social justice, disruptive, volatile world.
Building a
booming consultancy

just got easier

Whether you're just starting out or looking for the latest trends in modern practice, The Consulting Bible gives you an unparalleled toolset to build a thriving consultancy and to establish value and equitable compensation.
Launch your practice or firm and propel it to top performance
Implement your consulting strategies in public and private organizations, large or small, global or domestic
Select from the widest variety of consulting methodologies
Achieve lasting success in your professional career and personal goals
Create a lucrative advisory career where your labor is minimized and your income maximized
Get these bonuses when you order your copy of
The Consulting Bible

today
Bonuses are offered to those who support our pre-publication launch:
In addition to the second edition of The Consulting Bible being released June 22, you can also preorder the third edition of Value-Based Fees to be released in September.
Receive these bonuses when you order any combination of the books by June 21st and provide proof of purchase:
1 BOOK -
NO DEAL
Buy 1 and your bonus is what you read in this great book!
2 BOOKS -
GOOD DEAL
Buy 2, one for you and one for a friend, and you'll both be invited to a group education session on zoom where I'll speak to you about how to get the most out of the material in this book.
Value $495
50 BOOKS -
GREAT DEAL
Buy 50, one for you and 49 of your closest colleagues and clients, and in addition to the above you can ask me anything via email for 90 days, and will provide you with 3 private coaching calls during that same period of time.
Value $5,000
100 BOOKS -
BEST DEAL EVER!
Buy 100, now you're making an investment in your business. In addition to the above, we'll have dinner and you'll receive a half day of private coaching.
Value $10,000
REMEMBER, ALL BONUS OFFERS MUST BE SUPPORTED WITH VERIFIED PROOF OF PURCHASE OF THE CONSULTING BIBLE OR A COMBINATION OF THE CONSULTING BIBLE AND VALUE-BASED FEES.
How to claim your bonuses:
2
After you place your order, return to this page and fill in the form below:
IMPORTANT: For orders of 2 or more, you will be required to email proof of purchase directly to Alan Weiss at alan@summitconsulting.com.
Offer ends June 21, 2021 at 5 PM.