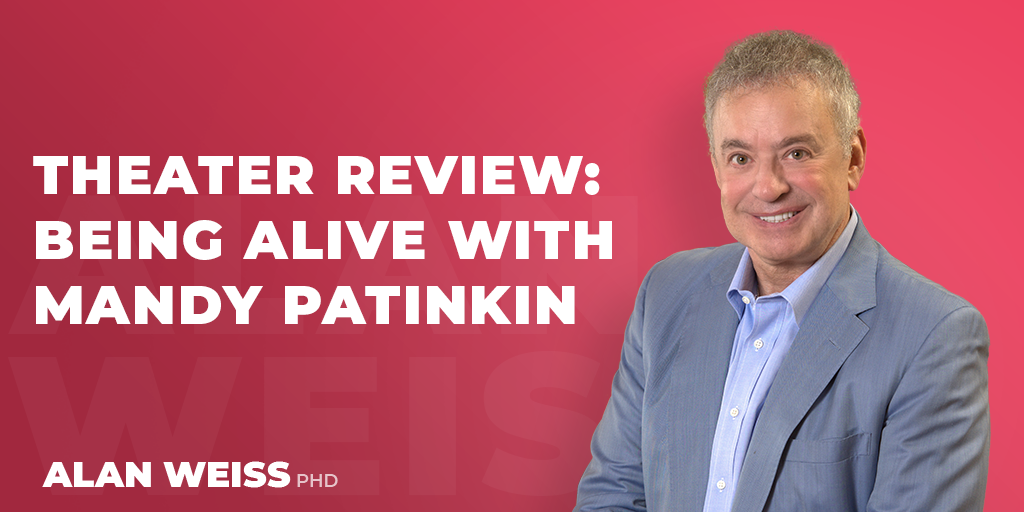 Theater Review: Being Alive with Mandy Patinkin
We saw Hamilton well before the Tony awards. We went because we loved Lin-Manuel Miranda's In the Heights, which was brilliant. Thirty minutes before the curtain at Hamilton, people were already screaming and whooping. They were determined to love what they were about to see. And, Hamilton was outstanding, though it's not in my personal top ten musicals. It's not Fiddler on the Roof.
This was the attitude last evening at the Zeiterion Theater in New Bedford, MA where Manny Patinkin was in the midst of a seven-city Being Alive tour (with the exquisite Adam Ben-David on piano). This was a star-struck, middle-aged crowd in a sold-out theater ready to love whatever they were to see. And, incredibly, a lot of them did.
I think the world of Patinkin, from portraying Che, and Sunday in the Park with George, to Homeland. (He would have taken over for Josh Grobin in The Great Comet of 1812 except for a huge protest about using the understudy instead, with the result that the play closed and everyone was thrown out of work.) He's done television, movies, the stage, recordings—he's a great talent.
But last night he just hammed it up. His "ad libs" were obviously scripted, and his "schtick" was for him, not the audience. He sang several songs in Yiddish, which was nice for a small portion of the audience, but was more for his demonstrating that he could do it. (Are Somewhere Over the Rainbow and White Christmas really the appropriate pieces for a Yiddish rendition?!)
He pretended to be drinking vodka, which I thought went out with Sinatra and the old Rat Pack (though that was Jack Daniels). The show was self-absorbed and idiosyncratic. For example, he sang A- Tisket, A-Tasket and then segued into more contemporary work, but not too contemporary. He made the obligatory political comments aimed at a typically progressive crowd typical of Massachusetts, and talked of closing "palaces" by the country, gesturing around the theater, where artists can meet the audience. The Zeiterion Theater is a well-run operation with a skilled board and enthusiastic volunteers, but a "palace" the theater is not. It's a rather pedestrian theater that could use a lot of work. He pandered to the New England crowd by crowing he couldn't stand New York. Then why accept so much work there?
Critics have loved this tour though a great many members of the audience have not, as evidenced in reviews posted on line in several places. Frankly, Patinkin seemed weary. If there were an intermission, we would have left, but we were in middle seats which I thought were a great location otherwise.
He said he couldn't believe he was being paid to do this. Neither can I.