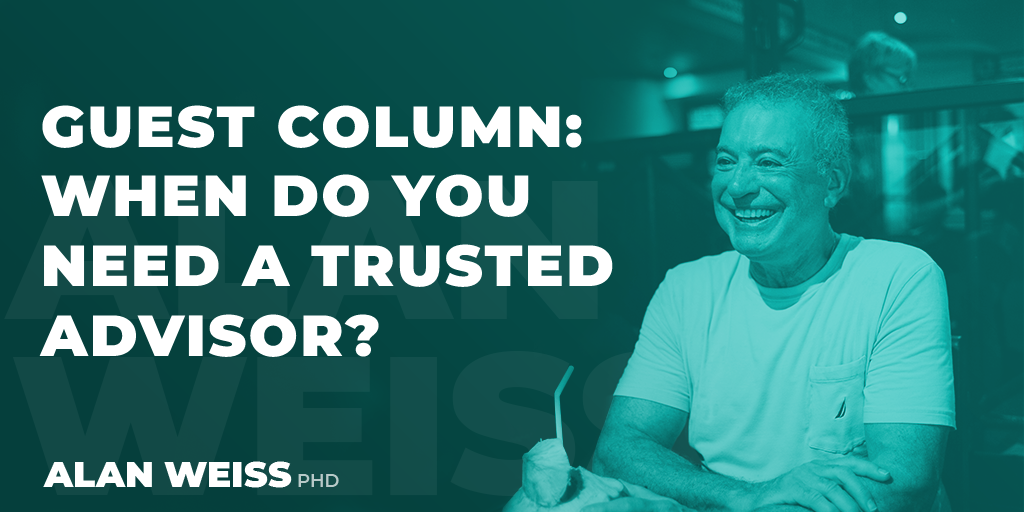 Guest Column: When Do You Need a Trusted Advisor?
When Do You Need a Trusted Advisor?
Linda Henman, Ph.D.
Senior leaders, even those who have had an executive coach, tell me they often need a trusted advisor—someone who goes beyond coaching and professional development to offer them an insurance policy. A trusted advisor provides access to expert counsel so executives can tackle critical decisions and seize emerging opportunities—just in time.
A trusted advisor can help you quickly get to the core of unfamiliar problems, determine trends, and make the tough calls related to the direction of the company, growing the business, and developing the bench—the decisions you can't afford to get wrong. When the stakes are the highest and the decisions the most critical, making the tough calls quickly makes sense and saves dollars.
The role as a trusted advisor can be behind the scenes, as an invisible confidante, or more public, depending on your preference. Your advisor can meet you privately or can join you in meetings with clients, high-value stakeholders, board members, or senior managers.
Above all else, an advisor should serve as an external sounding board to groups and individuals who need help to increase the speed and quality of decision-making, which leads to accelerated business growth. Advisors should encourage their clients to call them when they experience an emergency or PR nightmare, but clients frequently need assistance in knowing when to seek help for other kinds of issues. Always call your advisor when you face a tough call in one of the three areas related to executive responsibilities: Strategic decisions, growing the business, or developing the bench:
Strategic Decisions:
Mission, vision, and values
Goals and priorities
Risk
Change, innovation, and disruption
Industry and market trends
Board relationships
Growing the Business:
Immediately and dramatically improving both personal and company-wide performance
Attracting and retaining customers
M&A strategy
Attracting and retaining customers
Brand development
The go-to-market strategy
Sales structure
Buying behaviors and trends
Developing the Bench:
Hiring and firing
Promoting leaders to support the strategy
Performance reviews
Attracting and retaining top talent
Delegating
Leadership development
Selection
Teamwork
We're all heard that it's lonely at the top, and it is. But it's lonely at most other rungs on the ladder too. Even when people work for a boss or board committed to mentoring them, they often want to bounce ideas off a dispassionate trusted advisor. This person should be someone you can work with on your own terms, not someone who charges by the hour or who requires you to make an investment decision before you pick up the phone. Advisors should provide unlimited phone and email support with 24-hour response times for the duration of your tenure together.
In short, choose an expert who commits to your success and watch the needle move!
©Henman Performance Group, March 2022
Dr. Linda Henman, The Decision Catalyst®, helps executives and boards make decisions they can't afford to get wrong.
You can reach her at [email protected] or at 636.537/3774.