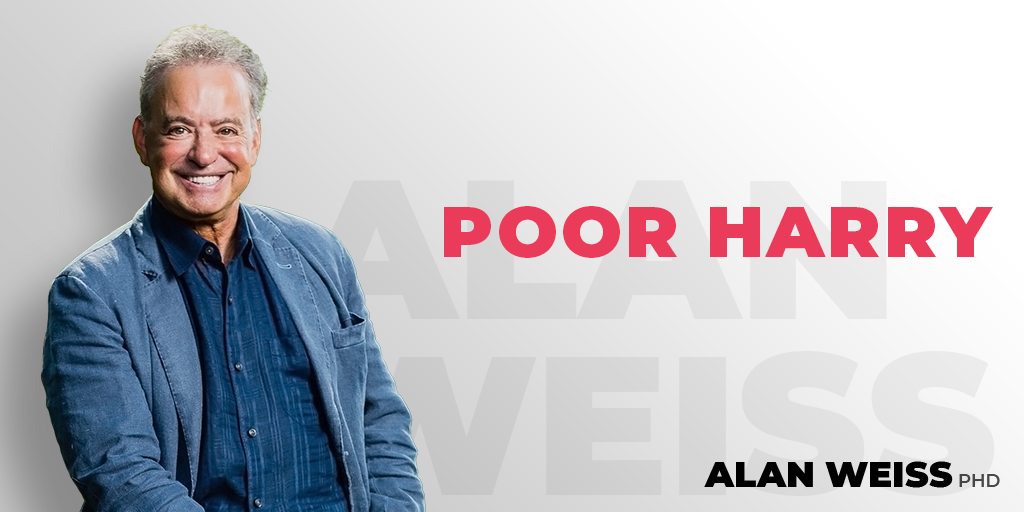 Poor Harry
I promised myself not to write about this, but I can only extirpate it by dealing with it. They say when you have an "ear worm" the only way to get the tune out of your head is to try to think of a different tune.
I am sick to death of Harry (he's not a prince to me, either legally or rightfully) whining about his life. While I refuse to read Spare because life is short, I have read four reviews of it because they, too, are impossible to avoid. Perhaps Americans' fascination with British royalty stems from the fact we can watch it but not live under it (like my reading the review of the book and not suffering through the book), or the fact that we're still comforted by what we narrowly escaped 250 years ago.
Harry doesn't have much of an education, is nowhere near being an intellectual, and admits that he doesn't read. Flying a chopper in Afghanistan (and tallying your kills) was apparently far easier than Moby Dick. He laments the lack of privacy from the press and media while he vigorously pursues them to air his grievances about his side of the room in the castle being smaller than William's or the lack of physical affection from his father and grandfather.
Why are we so caught up in this? It's not even good Soap Opera. He bemoans his accident of birth ("spare," get it?) but other accidents of birth have placed children in desperate poverty and harsh conditions or living under tyranny. Was the palace really that bad?
I think Meghan Markle orchestrated the attraction of Harry, the inevitable friction with the royal family (and the very real racism within it and within the British media), the jolting separation, the multi-million dollar media deals, and the rarified life in California. I think she'll want to become the next Oprah, will write some books, host some talk shows, maybe serve on some boards.
And I think the marriage will fail within the next five years and Harry will truly be a lost soul.