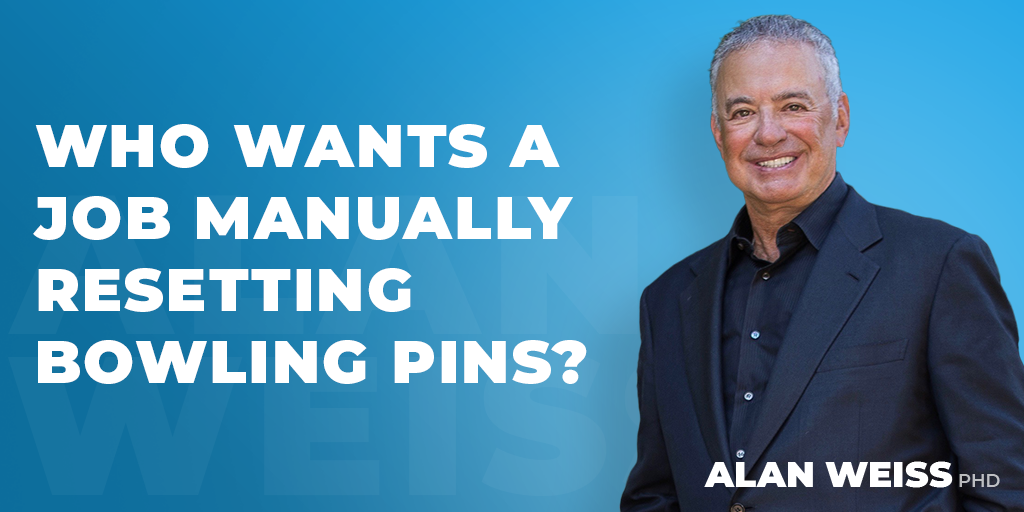 Who Wants A Job Manually Resetting Bowling Pins?
Remember the Luddites? They fought against the Industrial Revolution's conversion of mills to machinery, and wanted workers retained and paid better. Today, the modern Luddites want to ban automated cashier machines to retain the human cashiers and continue to provide jobs.
The extrapolation of this is to continue to employ the people who preceded the first automobiles on the roads with a red flag at a walking pace, or the camera operators who used to turn a crank to move the film, or coal shovelers on train engines. Progress ends the need for some jobs and creates needs for new ones. One problem today is that the prevailing academic wisdom seems to be that everyone should try to go to college. We need people going to trade schools because we're in need of electricians, and carpenters, and plumbers, and so forth. I can replace my personal physician if I had to faster than I could my gardener.
Another issue: Small businesses are the largest producers of net, new jobs in North America. Larger businesses replace people with automation, but small business expansion requires more people in most cases. We need to ease the excessive regulatory requirements and taxation of small businesses, about half of which now fail within their first five years.