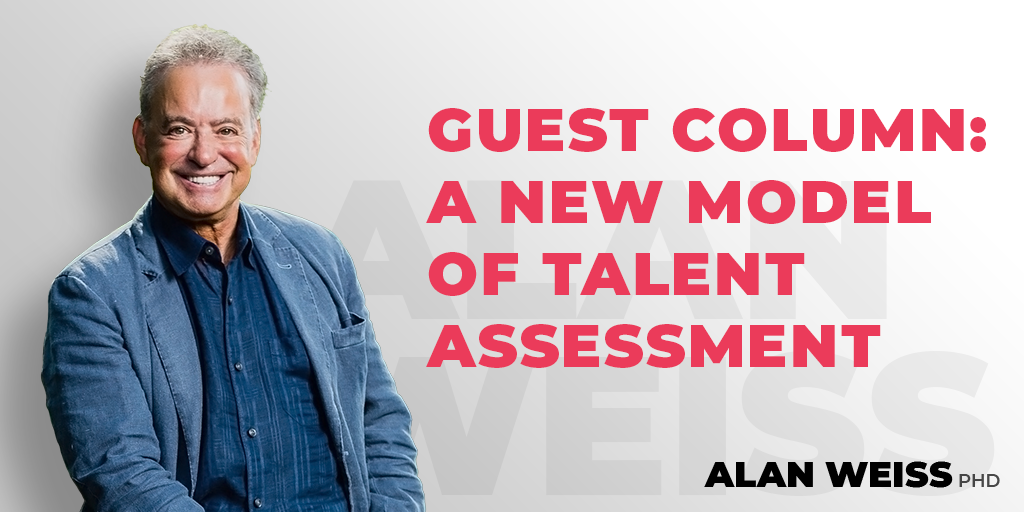 Guest Column: A New Model of Talent Assessment
A New Model of Talent Assessment
By
Linda Henman, Ph.D.
            One of the most critical responsibilities of senior leaders involves assessing talent—something they've never been trained to do. Of all the leadership and managerial duties they'll face, however, this is probably the least intuitive, the least familiar, and the most complicated. That's why they need our help.
            By July 2022, as the pandemic's effect had begun to ease, the U.S. had 11.2 million job openings but only 5.7 million unemployed workers willing or able to fill them. Most of my clients have posted long lists of career opportunities on their websites, and in highly skilled jobs at the top of organizations, things have gotten grave: Organizations simply don't have enough qualified leaders applying for key positions. As 2023 begins, what can decision makers do?
            Hire wisely, not desperately. For more than forty years I have helped leaders make hiring decisions, and after conducting thousands of pre-employment screenings, I have witnessed the consequences of unwise hiring decisions. Often clients asked me to assess a candidate and then disregarded my advice because, "Linda, we're in so much pain. We need help right now." I can't recall even one time that this approach had a happy ending. Typically, I received a call about six months after the initial screening telling me they had to fire the candidate I had not recommended.
            Hiring mistakes incur costs associated with high turnover, searches, and onboarding, resulting in a financial loss to the company that can potentially be one to four times the candidate's annual salary. C-suite hiring mistakes cost even more, often millions of dollars. Avoiding a bad hiring decision reduces risk: to the company's repute in the industry, the hiring manager's reputation, customer relationships, business growth, and team cohesion. We can help.
            When assessing strengths, you'll need to carefully weigh the three constructs of talent: the aptitude to do the job, the behaviors that will ensure success in the job, and the requisite experience for success. A person's behaviors and experience usually present themselves in the most obvious way—the aptitude appearing much later in the game, but the aggregation of the three explains strengths in a nutshell.
            Aptitude involves the natural disposition or tendency toward a particular action, the readiness to learn, and the raw talent to function in the role. It involves three major capacities: verbal ability, quantitative skills, and strategic thinking. When people evidence strong control of language through use of advanced vocabulary, well-developed writing and speaking skills, and a quickness at learning new skills from verbally presented data, you can infer robust verbal ability.
            At the most basic level, quantitative skills involve the capacity to handle a budget successfully. More advanced evidence will be tied to stellar performance with profit and loss responsibilities. Engineers and accountants usually come in the door with well-developed quantitative skills—otherwise, they could have never made it through school. But often those in operational roles will have these abilities too; they'll just need some help in honing them and applying them successfully to the organization's strategy.
            Strategists understand how to separate the critical few considerations from the vast number of nonessential ones. When they face a complex, unfamiliar decision, they maintain a global perspective as they quickly zero in on  the critical few as they put aside the trivial many. They typically multi-task effectively and keep the priorities clearly in focus. Most see the future as open and malleable, so they paint credible pictures of the future for others to understand. They usually handle change well, even when they didn't welcome it.
            You can often infer aptitude from individuals' track records. How quickly have they learned new, unfamiliar tasks in the past? Handled unexpected, unpleasant change? Aptitude implies that, with training and experience, this person can master the skills required to do the next job. If a person doesn't have the requisite aptitude for the job, nothing else matters. Without it, no amount of coaching, training, wishing, or hoping will make this person able to advance. The trick is to determine what specific aptitude a job requires.
            Behavior involves people's conduct—the way they present themselves. It tends to be consistent. Behavior encompasses morals, deportment, carriage, and demeanor. Gregarious people who enjoy meeting others, interacting, and engaging in conversation exhibit some of the strengths required of a salesperson. On the other hand, people who like solitude do their best work without distractions and welcome opportunities to double-check work for accuracy.
            Experience, the most easily observed and objective aspect of talent assessment addresses the skills the person has displayed so far. In other words, they already know how to perform specific tasks and have demonstrated this in the past. While important, experience offers limited prophetic value. I find companies give it an unfair advantage in the assessing game, however. Experience should be one, but only one, factor in assessing talent.
            One of the most critical responsibilities of senior leaders involves assessing talent—something they've probably never learned to do. Traditionally, human resources assumed responsibility for recruiting and screening potential new hires. Conventional approaches no longer work, however. Now, more than ever, no matter what your value proposition is, leaders need your help in hiring wisely, keeping the talent they have, and tying succession to the strategy.
© Linda Henman, 2023
Dr. Linda Henman, The Decision Catalyst ®, is the author of eight books, including the newly-released The Vibrant Board, and the founder of the Henman Performance Group, located in St. Louis, MO. For more than 40 years she has helped executives and boards accelerate growth by making decisions they can't afford to get wrong. Some of her clients include leaders at Boeing, Tyson Foods, Avon, Emerson Electric, Estee Lauder, and Kraft. You can reach her at www.henmanperformancegroup.com.