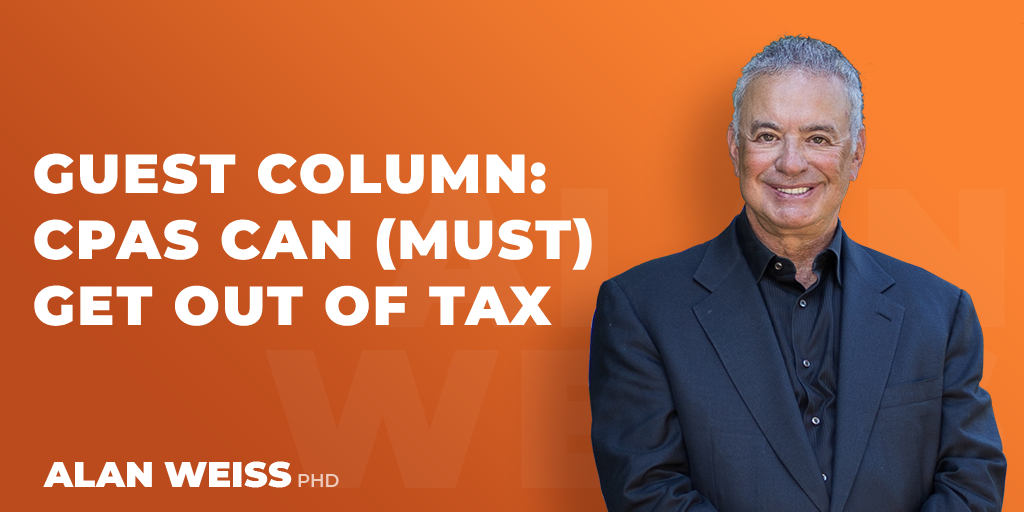 Guest Column: CPAs Can (Must) Get Out of Tax
CPAs Can (Must!) Get Out of Tax
by Geraldine Carter
Traditional accountants are stuck in a compliance rut and struggle to get out. They compensate for low-margin work by putting in 60-hour weeks, claiming they "just want to be helpful" and commiserate that "no one will pay more."
Inside their own echo chamber, they tell each other to be seen as a "trusted advisor," but rarely do the experts share what that is or how to become one. Instead, they specialize in being generalists, give away valuable expertise for free, and wonder why their condition doesn't improve.
Yet, the profession is beginning to shift: More and more CPAs seek to learn about a business model based on value, rather than volume, and are eager to make the transition. Though the changes required are significant—both business model and mindset must be completely updated—they are not insurmountable. When fully committed, most of my clients are able to pivot their accounting practice in a few months. As a result, they spend less time at the office while taking home twice the money. (Nuisance clients are gone, too.)
Because they see profound results so quickly, it's worth sharing the exact process I take my clients through with the broader community. When CPAs provide deeper expertise to their business-owning clients, those businesses thrive and continue to positively impact the greater economy. These times show us we all need CPAs to update their business model so they can better support small business success.
If you're a CPA and you want to grow your accounting practice without working harder, join my Livestream on Wednesday, July 22nd at 12pm ET. Simply go to shethinksbigcoaching.com/livestream/ to get the link.
Geraldine Carter is the founder of She Thinks Big Coaching, where she helps CPAs get out of the accounting rut. Geraldine holds a BS in Engineering from Cornell University, is the co-founder and CFO of a company where her cashflow forecasting models resulted in millions of dollars for climate change efforts. In her free time, she can be found mountain biking forested trails or running after her two small children in her hometown of Missoula, MT. geraldinecarter@gmail.com
© Geraldine Carter 2020