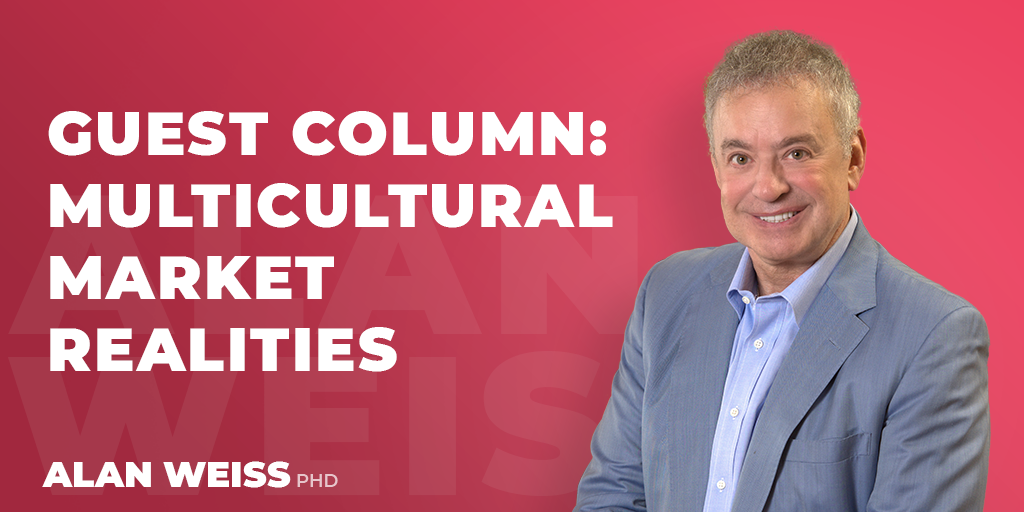 Guest Column: Multicultural Market Realities
Multicultural Market Realities
by Terry Soto
Companies that are benefiting from expanding their strategies to multicultural populations in the United States have achieved a dominant business advantage. These companies have always been just as challenged by multiple priorities and growth pressures as other companies. Their leadership is similarly tasked to accomplish much with limited time, people, and budgets; the difference is that for these leaders, the incremental revenue potential of multicultural markets is so crystal clear that successfully expanding and delivering their strategy to multicultural populations became an imperative.
While a select group of companies reap the benefits multicultural populations offer, an overwhelming number of companies are stalling or are completely stalled in this regard. For some, the multicultural population is still off the radar, and many others are still unsure about the value multicultural populations represent. I often hear leaders making contradicting comments that suggest they recognize the value multicultural populations represent, but the rest of the organization does not or is unaware. Their apprehension and uncertainty is palpable when making comments such as the following:
"We don't want to call too much attention to this initiative in case it doesn't work."
"We want to make sure this work is not too disruptive or requires too many resources."
"We need to keep it low-key because we don't want to upset folks internally."
"We need to be light-handed in our implementation in our retail locations because we don't want to upset our core customers."
Taken out of context, one might think they're referring to some shady activity rather than efforts to potentially generate revenue growth for the company. This type of tentativeness is often the result of an effort driven by a single individual or a department. However, revenue growth initiatives for a company cannot be born in and confined to the purview of one person or one department. To gain the sustained support to expand the company's strategy to multicultural markets in a way that aligns with the company's direction and focus requires top-level–driven analysis and a due-diligence process that makes a strong business case for undertaking the effort.
Getting to this stage has proven challenging for many companies that struggle with ill-planned and implemented initiatives. It is a difficult step to take when leadership hasn't acknowledged and has little familiarity with multicultural markets. As a result, a sizable number of U.S. companies have yet to organize to take advantage of the revenue potential among multicultural consumers.
In 2015, the CMO Council surveyed their CMO, SVP, and marketing VP members about their activities to target multicultural populations. The study found that on average, half of survey companies had no organized initiative or investment to capture sales in multicultural markets. Only two-thirds of business-to-consumer (B2C) companies and 20 percent of business-to-business (B2B) companies reported some type of activity.
The B2B finding is particularly counterintuitive given the 39 percent growth in minority-owned business between 2007 and 2012 (from 5.8 million to 8.0 million) compared to 3 percent growth among total U.S. firms during the same period. CMO Council survey participants cited an array of reasons for not investing in expanding their strategies to multicultural markets. Half reported "too many competing priorities," while "budget and resource limitations" precluded another third from focusing on this market. Another fourth of respondents believed their company is "already effectively targeting multicultural consumers through existing strategies"—a common but often incorrect assumption. Over one-third cited several other reasons, including, "not everyone being on board," "the field not understanding the importance," or "management not being sold on the idea."
When only 10 percent of managers place blame on the company's leadership for not supporting the expansion of their strategies to multicultural markets and "competing priorities" and "budget limitations" are cited as primary reasons for inaction, it is the survey participant themselves who are unaware or unconvinced about the revenue impact to their businesses.
Oftentimes the C-suite may be convinced that the business potential exists and may be taking steps to mobilize and organize the company to target the market, but efforts fail to gain traction at the CMO, VP, and director levels, where strategy implementation and budgets are controlled. It's not enough to announce the expansion of a company's strategy to multicultural markets is an imperative; senior leadership must organize and follow through to implement it successfully. There are several very important steps management must take to ensure traction.
Terry Soto is a Fortune 500 executive adviser, author and speaker and is one of the country's top experts on consumer trends, leveraging the customer experience and revenue growth marketing. For the last 18 years, companies like Coca Cola, Citibank, Disney, ALDI, Verizon Wireless, Walgreens, AutoZone, H&R Block and many others have sought her advice on how to relevantly expand their strategies to grow revenue and gain competitive advantage in multicultural markets. She can be reached at [email protected]or 818-842-9688.
The $3.5 Trillion Advantage – A Marketer's Guide to Growing Revenue in Today's America is available at Amazon, Barnes & Noble and 800ceoread.com.