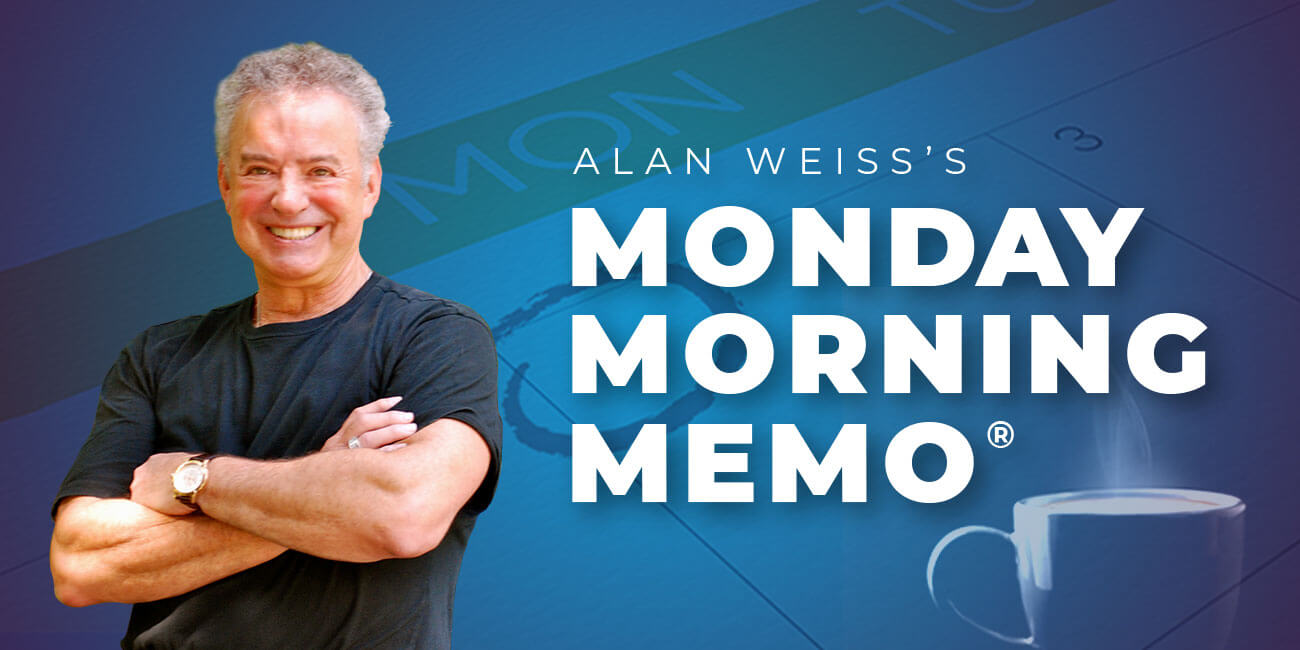 Alan Weiss's Monday Morning Memo® – 05/18/2020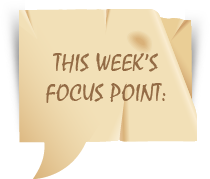 Sometimes people tell me, with compliments intended, that it's just wonderful how Monday Morning Memo shows up faithfully every Monday morning. "That's why," I point out, "it's not called 'Tuesday Morning Memo,'" though that reply is often not grokked. (It's also why so many have emulated my newsletter, which I accept as flattery.)
But what day is this, actually? Whereas I thought the days would drag by, it seems as if I'm saying "good night" to my wife a few minutes after saying "good morning," and that before I know it, the early hours have migrated into my evening cocktail, and I haven't cheated by drinking any earlier. My days are filled, there is no moiling around. I handle the house chores, errands, and business commitments with great energy and purpose. Bentley now enjoys daily Frisbee and I already fear letting him down when I travel to Newport next month for my first "live" session in what seems like 10 years.
I hope this demonstrates to all of us the "elasticity of time." We can do a great deal more than we think without filling our day by "working hard." And let's face it, the problems that you and I might encounter along the way are strictly "first world problems." Most of us can, and have, made the best of this as we are emerging from it. Most of us (if we're healthy emotionally) have a way of egesting bad news and conditions and focusing on the future.
And in the future my commitment to you is that Monday Morning Memo will continue to arrive on Monday morning, and that way you'll know what day it is.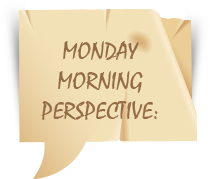 There is no catastrophe, no cataclysm, no ill fortune so grim or so pervasive in the course of human history where the correct solution was the deliberate creation of universal poverty.—Alan Weiss
How to Organize Your Time, Priorities, and Life in A New World
A special livestream broadcast on May 21 at 11AM EST, recorded for later viewing, as well.
I don't know why you would not want to join me for this! If not now, when?
I'm currently coaching people in dozens of countries every week. Join me for the advice I give them and the advice they give me for reestablishing and reenergizing yourself as we emerge from the pandemic. This is not an "on/off" switch, but rather a rheostat. Neither your personal strategy nor your clients' strategies from before the crisis will be effective as we emerge from the pandemic. I'll be talking about how businesses are changing (my estimate is about 25 percent permanent change), how personal opportunities are growing, and how relationships are evolving.
I'll provide specific, pragmatic techniques not to survive, but to thrive. There is huge opportunity ahead of us if we care to seize the day. You can ask questions in real time, or prior to the broadcast, or subsequent to it. My prior broadcast at the outset of the crisis has now drawn almost 5,000 views.
The fee is $595. Your return will be enormous.
Master Class Has Availability: June 16-18, Newport, RI
Because my always-sold-out, annual Master Class has received unavoidable cancelations from four international participants, I have four spaces. This is one of my most powerful and high-growth offerings, ever. We spend 2.5 days on innovative strategies and tactics for growth, which this year includes how to grow more strongly than ever in the emerging, post-crisis world.
The facility is open only to guests, it meets all state, local, and federal health protocols, and has meticulous sanitation and dining safeguards. Meals are outdoors and we're on the beach in our accommodations. Join me for a one-of-a-kind experience in what was already a unique developmental opportunity.