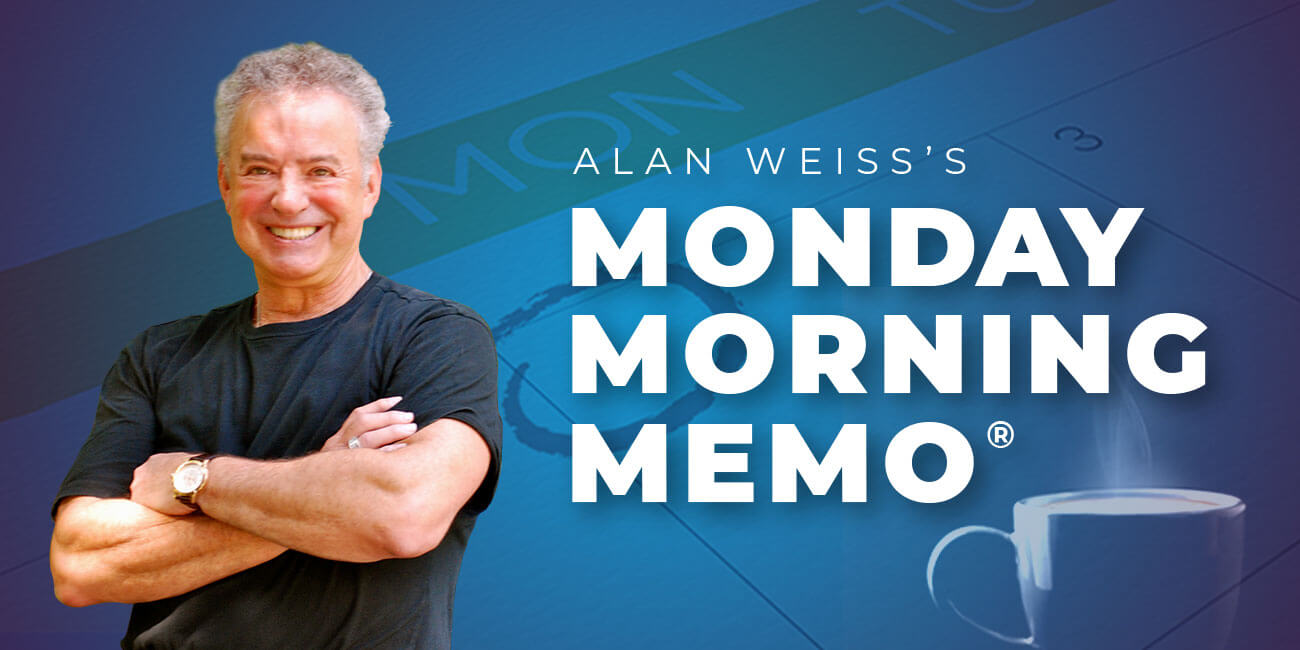 Alan Weiss's Monday Morning Memo® – 05/23/2022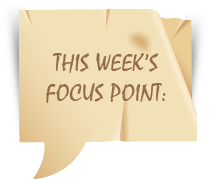 Looks like the "perfect storm," right? War in Europe, inflation, supply chain shortages, covid hanging around like gum on your shoe, off-year US elections that will impact much of the world, and the frenzied apprehension about what Kim Kardashian might say next. The echolalia that the sky is falling.
I'm not here to make light of serious issues, but simply to point out that some of us have been through recession, Viet Nam, the Cuban Missile Crisis, polio, assassinations (of JFK, Bobby Kennedy, and Martin Luther King), gas shortages, and much more. And here we are.
The question to me has always been: To what extent do we believe we have control and attempt to exercise it? (Marshall Goldsmith and I discuss this at length in our book Lifestorming [John Wiley]).
If you believe there is neither external control nor internal control, then every day is a crap shoot, simply random existence. If you believe that you have no control and that it is all external—from the IRS to the weather—then you're in a sort of Calvinistic pre-determination, where whatever you try to do, it doesn't matter. You're in the hands of the fates.
If you believe that it's all about internal control, and you are the sole determinant of what happens to you, then you're in the realm of the motivational speaker and The Secret. (I love the speakers with three divorces, who are overweight, who chain smoke, who drink too much, and who tell you to take control of your life.)
The truth is in reciprocity. That is, there is external control (laws and such) and internal control (free will and independent judgment). If it rains, you move the party inside. If the IRS calls, you get a great accountant. When trauma hits, you grieve and move on. (Pain is inevitable, but suffering is voluntary.)
The current "storm" will pass and another will come along. The question is not what's happening, but what you choose to do about it. That might seem like a lot of pressure, but it's actually a lot of freedom.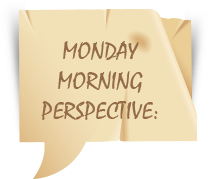 What is needed, rather than running away or controlling or suppressing or any other resistance, is understanding fear; that means, watch it, learn about it, come directly into contact with it. We are to learn about fear, not how to escape from it.—Jiddu Krishnamurti
Politics is the art of controlling your environment.—Hunter S. Thompson
When you can, exert control. When you can't, be resilient.—Alan Weiss
Special Offer: My session on Ferocious Time Management was so well received—and, unfortunatley, we could not record it—that I'm offering it now in two, half-day Zoom sessions. These will be compatible with "global time" because we have people from both Europe and Asia signed up. This session will be recorded for those who can't attend "live." The fee is $1,200, and you'll find yourself hugely lowering your labor intensity and engaged in a high quality 20-hour week. That's not a typo. Once I have just five more people the early adapters will get to choose the dates and times. Register here: https://alanweiss.com/store/quick-pay/
Return to Australia: I'll be making my 19th trip in October, this time to Brisbane, to present a week of unique offerings from passive income and global "reach" to a new strategy approach. Join me and your peers for my latest value to grow your business and decrease your labor facing our "new realities." There is also certification for a new approach to strategy for the post-pandemic world that already has 60+ practitioners in six countries. There is limited seating capacity. https://alanweiss.com/growth-experiences/australia2022/
Return to London: I'll be hosting a two-day, high-level discussion of likely business futures globally, financial considerations, global passive income, the new realities of sales, new approaches to strategy, and so forth. There would be a limit of eight people. I'll also conduct a full-day experience for a larger group, probably a limit of 30, for an entire day which will address new approaches to value-based fees, the five essential short-term revenue generators, role-playing difficult conversations, the advanced Accelerant Curve, and scaling the practice. Schedule: November 29: General Session, 9 to 4. November 30 and December 1: Intimate Session, 9-4 both days. https://alanweiss.com/growth-experiences/london/
Million Dollar Consulting® College: I've been asked to run this again, and I miss it, so I'm going to do it on December 13-15 (2.5 days) in Castle Hill, Newport, RI, my usual stomping grounds. The beach houses in the winter are fantastic. There's a great holiday atmosphere that time of year. It will be on my site next week. I'll be focusing on what I've seen as the critical areas for success: brand-building, accelerating referrals, provocative IP, low labor revenue focus, the post-pandemic lasting realities, and so forth. There is a 25% discount during if you sign up this month. https://alanweiss.com/growth-experiences/million-dollar-consulting-college-2022/
The fee is $15,000 (before the discount), which includes lodging, breakfast, lunch, breaks, and one dinner. If you catch me at the bar, it could include two dinners. I'm also going to take time to show how I create this and other workshops, step by step, live or remote. If you register with me prior to June 1 the fee is $12,000. If you buy a Bentley Card before June 1, you can attend the College for free, no deduction on the card. Past grads are welcome to attend for $5,000.
Million Dollar Consulting® for the World: I've provided 14 modules with videos from me, from your colleagues globally, slides, and text. They include everything from launch to self-esteem, proposals to fees, closing business to creating a brand. No upsells! It's only $115. What do you think about a 10,000:1 ROI? We have over 500 people from 43 countries. https://milliondollarconsultingcourse.com
Beyond Thought Leadership: Six "stars" from my community from five countries will be interviewed by me in this live, 2.5 day experience. I'll be introducing new IP, case studies, and role-plays. And the final interview will be with me. This is one-time only, it was difficult to organize. Limited participation, in Miami in November, register now, no one else can offer this experience for your growth. https://alanweiss.com/growth-experiences/beyond-thought-leadership/