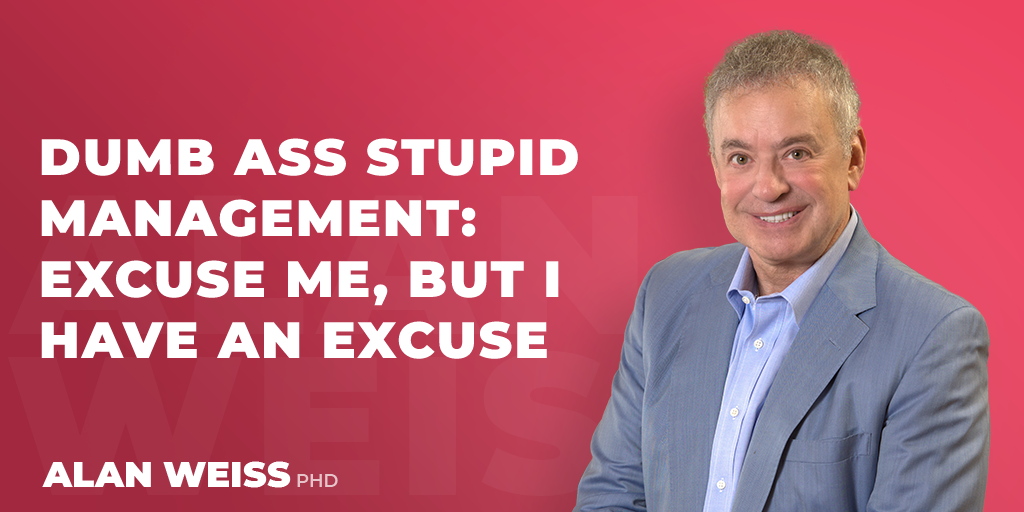 Dumb Ass Stupid Management: Excuse Me, But I Have an Excuse
Why is the restaurant on the far corner doing well with sufficient staffing, while the restaurant on the near corner closes two nights a week because of poor staffing? Why is one carrier cancelling flights due to bad weather, but not another on the same routes? Why does one supplier claim zero inventory of an item because of supply chain problems, but another can ship that item immediately?
This is simple critical thinking skills searching for distinctions. And the distinctions are not supply chain, covid, the "great resignation," or any other excuse that is slathered on such poor performance.
The cause is lousy leadership: poor planning, low employee loyalty, inadequate customer relationships, a focus on cost over value, and on and on.
Don't kid yourself. If Tom Brady wins another Super Bowl or Lady GaGa gets laryngitis, there are people who will tell you it's killing their business in Duluth or Taos, or Raleigh. Reminds me of The Wizard of Oz song: "If I Only Had A Brain."