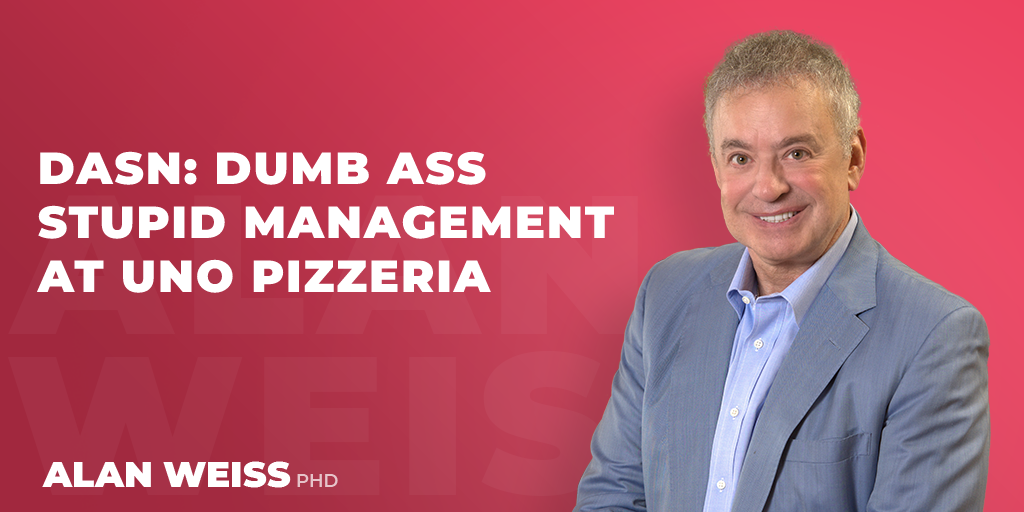 DASN: Dumb Ass Stupid Management at UNO Pizzeria
We decided to stop for some casual food around 5 yesterday and pulled into UNO Pizzeria & Grill in Warwick, RI. We found three tables occupied among maybe 30 or more.
The hostess was handling a take-out order. She didn't acknowledge us at all. She was having trouble with the computer touch screen because her nails were an inch beyond her fingertips and interfered with the process of selection on the screen. Her bottom lip was pierced in the middle and something hung down from it. She was about 20 or so, I'd guess. After five minutes—five minutes—she left to go to the kitchen to ask someone to come out and help her with the computer. She still ignored us even after the other person took over. I asked a server to seat us in the nearly empty restaurant. She said, "We have a hostess for that."
So we left. And we won't ever go back and I'm writing this.
This place isn't managed worth a damn. You have to try harder than simply putting "bodies" in jobs. You have to train people and provide oversight. There's lousy service, so there's lousy business, so no one makes much money, so there's lousy service. This is part of a huge chain and I guess they subsidize the stores or the franchises keep changing hands. All I know is that I felt as if I were in the waiting room to hell and I didn't trust the food which probably reflects the same level of poor performance.
We wound up in Smokey Bones which has great ribs and burgers. They were understaffed, but we were seated immediately, treated well, and we didn't mind a longer wait than usual.