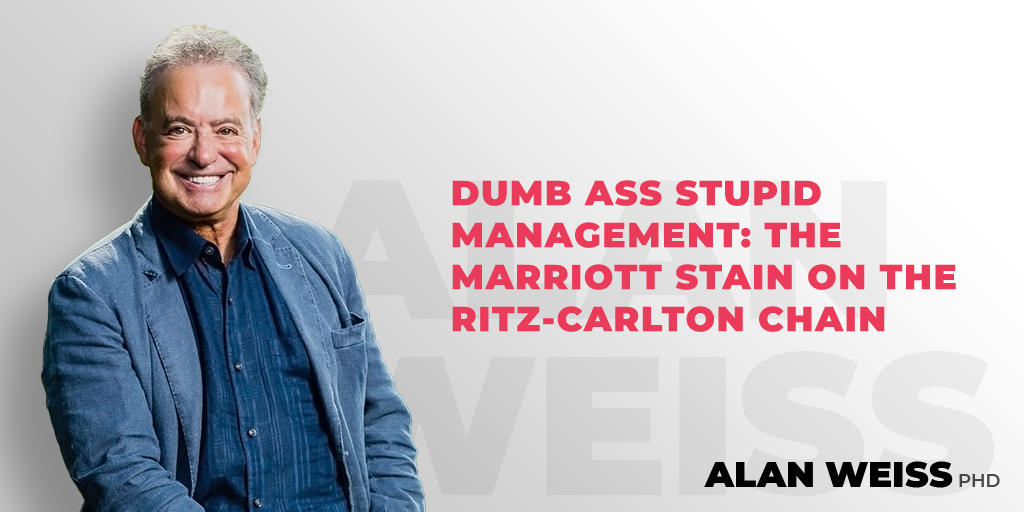 Dumb Ass Stupid Management: The Marriott Stain on the Ritz-Carlton Chain
I stay in high-end hotels in nice suites. I tell you this because it's germane to my point herein.
The Ritz-Carlton chain was once one of the finest in the country, and then Marriott acquired them. The cost-cutting and changes began fairly promptly. I had to tell the general manager of the Ritz in Naples—supposedly their best property in the country—that I wouldn't be able to continue to hold meetings there (of 20-30 people) if the cost cutting remained so obvious. Amenities were reduced, furniture was shoddy, and even one of their signature services, of employees escorting guests when asked for directions, was ended.
I'm now in Ft. Lauderdale, at a recently refurbished Ritz. The staff is wonderful, from the doormen to the pool attendants, from the front desk to the concierge. But the maids are told not to replace amenities unless they are nearly empty, which is hard to judge when the shampoo and shower gels are in opaque containers! There are no scales in the rooms, removed as a cost-savings measure. I've never stayed in a suite like this without a appreciative gesture, such as a bowl of fruit or a bottle of wine (sometimes provided in every room). Not here. Nothing.
There is one robe in the room even though one would expect two people to be here, which the reservation specified. Unless you ask for newspapers, you won't get them because the desk clerks are told not to offer delivery (the papers are piled on tables in public areas). There was no safe in our room, although there were instructions for using one. I had to ask for one to be installed and secured to the wall. Part of our balcony flooded because the drains were clogged, never maintained. Power plugs next to the bed weren't connected.
I could go on. Despite my complaints, the general manager never bothered to contact me, and I'm with a group of 10 other people spending at least five nights here.
I stopped staying in Marriotts long ago. My wife just unearthed two million points that I had accumulated which she's using for trips with our grandchildren. I stopped staying in them because the service was so uneven and erratic from property to property. Now that greasy set of fingerprints has stained a once-wonderful chain, Ritz-Carlton. You can't cut your way to growth. And when you're squeezing profit clearly at your customers' expense and discomfort, you're an example of Dumb Ass Stupid Management.