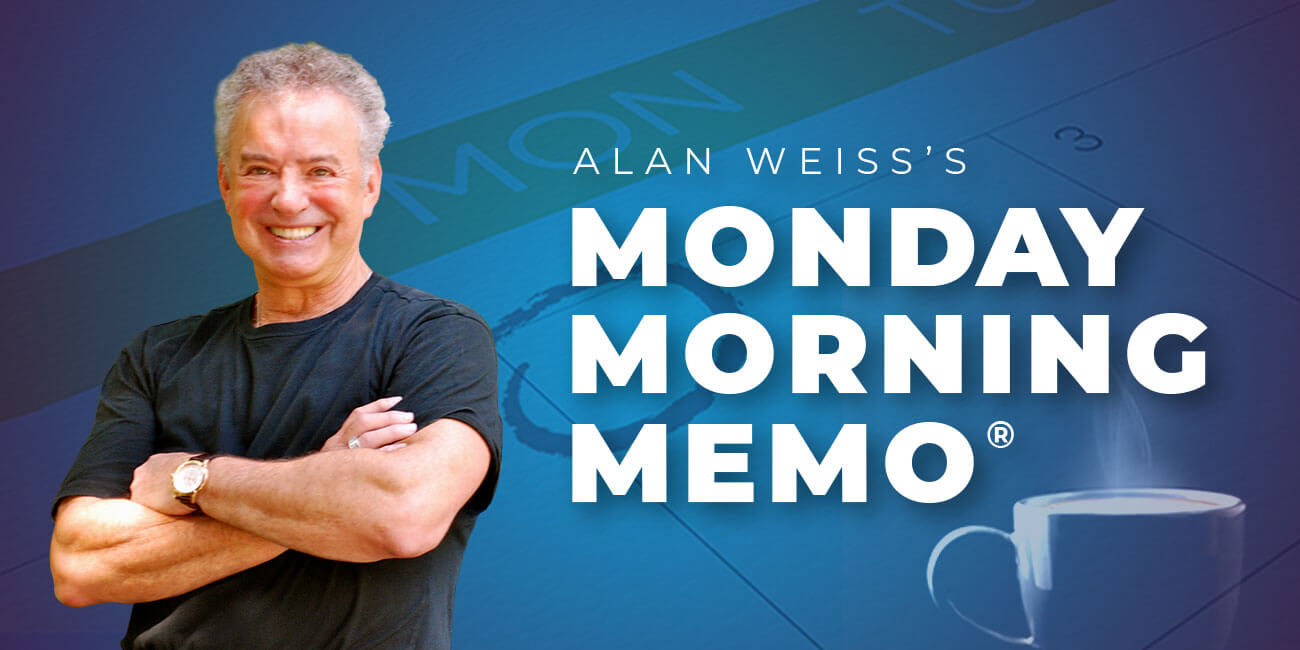 Alan Weiss's Monday Morning Memo® – 9/11/2023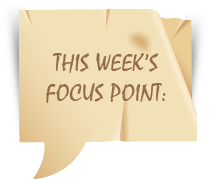 I've been to 63 countries and 49 states (I'm afraid to go to North Dakota—have you seen "Fargo?"). As you probably know, we've just returned from an eight-day cruise (after flying into Anchorage) that took us from Seward to Juneau to Skagway to Sitka to Ketchikan (and concluding in Vancouver). We sailed on the Silversea Muse, which is a wonderful ship with an outstanding crew. It has "only" 600 passengers, not thousands like some of the giants.
As expected this time of year, the weather was erratic. The temperatures were moderate (except on the glaciers) but we did have fog and rain.
Everyone we know who has taken similar cruises raved about them. I found Alaska to still be America's great, remaining frontier. The constant mountains, omnipresent glaciers, ubiquitous islands, and fast-running rivers are marvelous. The people here are wonderful—and they are far more diverse than most places we've been, with indigenous people (we were impressed by the history of the Tlingets), blacks, whites, Asians and others. There was a Philippine Association building in Juneau.
We had lunch in a typical saloon in Ketchikan and the server hurried after us, as we walked back to the ship, to return my wife's left-behind purse.
This is severe country. Off-season, many shops and restaurants close and the locals probably happily wish the tourists good-bye for the ensuing months. The air is fresh, the waters clear, the evergreens standing tall in military rows of formality, millions of them, often too close to walk among. The eagles dine on goats by pushing them over cliffs since they're too big to take on from the sky. The bears slap salmon unconscious and drag them up the banks to allow the insects to feast for a day. Then the bears eat the fish with the insect "condiments" still on them. There are sanctuaries for injured and orphaned raptors and bears.
I knelt outside a chopper on the Mendenhall Glacier and, over a rivulet of water transiting on deep blue ice, cupped my hand in the freezing liquid and drank.
This is where minerals gathered by glacial movement turn the ice blue and green, and plankton feed on the minerals when they reach the ocean, and fish and whales feed on the plankton. I was at the beginning of a food chain formed by a glacier that came into being about 3,000 years ago, before Christ walked the earth, before the Roman Empire had arisen.
The land was none the worse for my presence, and I'm far better off for the experience. I was an imperfect person in an unspoiled land.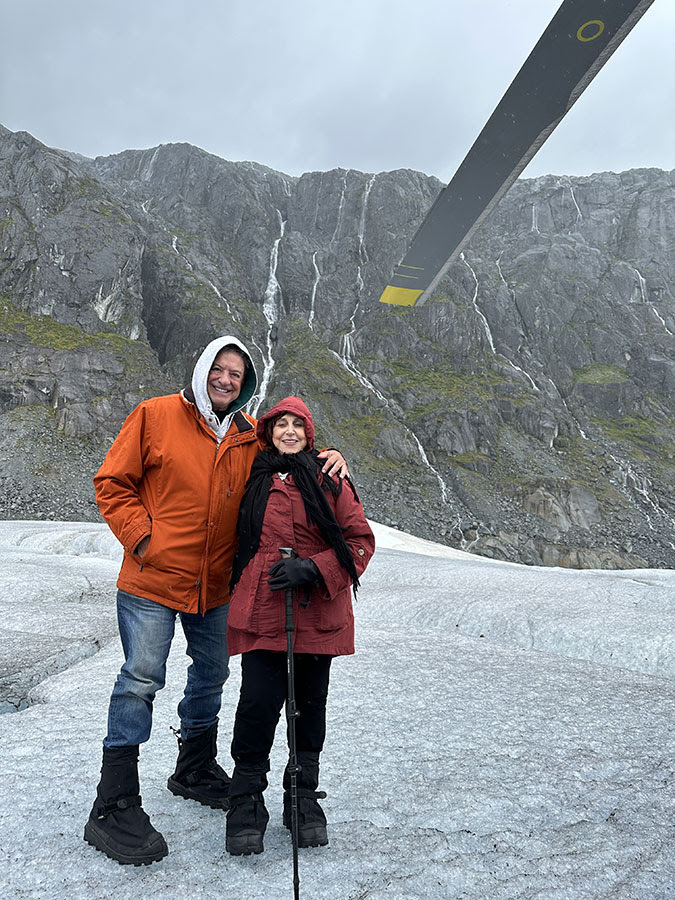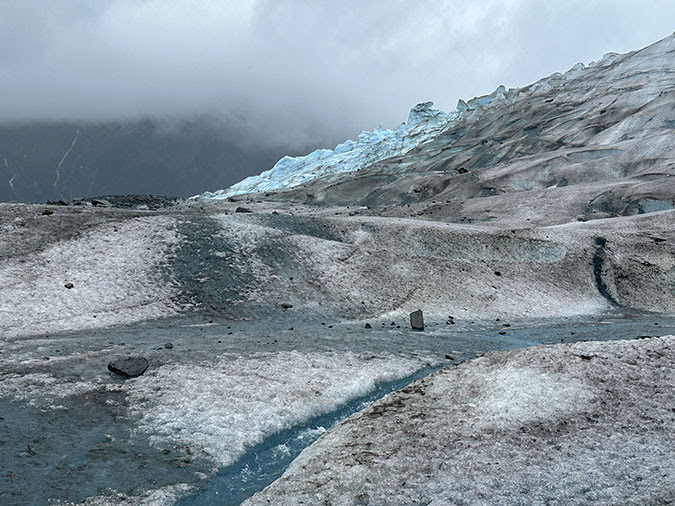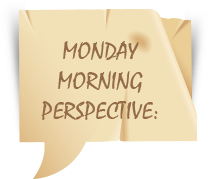 One does not discover new lands without consenting to lose sight of the shore for a very long time. —André Gide
There are no foreign lands. It is the traveler only who is foreign. —Robert Louis Stevenson
To the lover of wilderness, Alaska is one of the most wonderful countries in the world. —John Muir
NEW: Business As A Second Language: This 90-minute Zoom workshop will deal with reframing, social proof, instant examples, influence techniques, turning objections into selling points, and a great deal more. It will be interactive and recorded for ongoing use. Preparing for meetings is important (until, as the saying goes, you get punched in the jaw). I'll help you stay in the moment and outduel anyone. Are you tired of worrying about "what you should have said"? Now you'll be able to say it at just the right time. All this for $350, and you can drink while attending. September 14, 10:30 US eastern time. Recorded for all registrants.Sign up here: https://alanweiss.com/growth-experiences/bsl/
NEW: The Remote Millionaire™: Yes, I'm going to provide the secrets (and puncture the myths) of making a million dollars or more a year without leaving your home.
And, ironically, I'm going to do it in person, because I'm scheduled to be in San Diego and LA for other reasons and I generate so much money remotely that I like to be with people on occasion (in good weather)! Here's what you'll create or improve without leaving home, except for this day with me:
Developing unsolicited referrals.
Creating client evangelism with prospects.
Delivering powerful marketing discussions.
Creating contemporary passive income.
Establishing client "banks" that are used and replenished.
Moving to and enlarging a trusted advisor network.
We'll be using role plays, actual participant services (from prep work), and exercises to develop the skills to market, deliver, and expand business though dramatic and tangible value from a distance. We'll master how to do this with individuals, small groups, and/or large audiences. https://alanweiss.com/growth-experiences/remote-millionaire/
Speaking with Alan: One of my most popular experiential events, run twice a year. Learn how to create, refine, deliver, price, and market a speech of any length. A small group practices and video tapes the components over 2.5 days. Are you charging less than a minimum of $10,000 per speech? Are you agonizing over content, or not drawing a sufficient audience? You need this session NOW! San Francisco Sept. 19-21. https://alanweiss.com/growth-experiences/speaking-with-alan/
Master Master Class II: This sold-out event in March was so popular that I'm running another in October in Newport. I accept 16 people in person (you may also attend remotely on our large screen) and we have just two seats remaining! I'm creating new material, exercises, and challenges. Past "grads" get a discount. One person said, "I've known you for nearly 20 years, and this is the best thing you've ever done!" (Maybe I just wasn't that good before!) Register here: https://alanweiss.com/growth-experiences/master-master-class/
NEW! Alan's Advisory Suite: Nine options for groups or individuals to receive "real time" coaching to build their practices and lives on a continuing basis. The strongest, best people in business, entertainment, sports, the media—all use coaches. https://alanweiss.com/advisory-suite/ For individuals and/or groups.
Million Dollar Consulting® for the World: I've provided 14 modules with videos from me, from your colleagues globally, slides, and text. They include everything from launch to self-esteem, proposals to fees, closing business to creating a brand. No upsells! It's only $115. What do you think about a 10,000:1 ROI? We have over 500 people from 47 countries. https://milliondollarconsultingcourse.com
NEW: Million Dollar Consulting® for the World ADVANCED: The new program contains over 60 videos and has 15 modules focusing on what to do in the buyer's office, overcoming crises, financial planning, and much, much more. https://alanweiss.com/growth-experiences/advanced-global-learning-program/
Sentient Strategy Certification: My new book on the topic (above) has been released, so this is an ideal time to market Sentient Strategy. Write me to apply, join over 70 people certified in six countries. One-time fee of $12,000, includes 90 days of my support, free admission to all future certifications, and admission to a private web board with other Sentient facilitators.  alan@summitconsulting.com In a recent program a participant sold a $100,000 strategy program within 48 hours.
SAC Annual Meeting – San Diego/Hybrid: Join me for the upcoming Society for the Advancement of Consulting (SAC) annual meeting in San Diego and hybrid on Nov. 14th. I'll be speaking in the morning, followed with additional content from colleagues. Click to learn more and register. Stay over and join me at The Remote Millionaire on the following day. You do not have to be a SAC member.
© Alan Weiss 2023